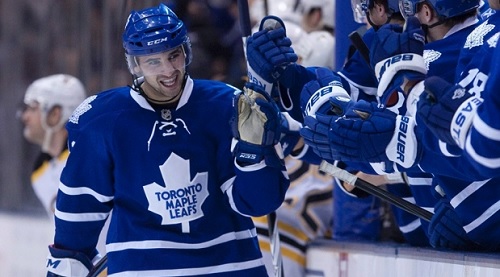 Consistency at the NHL level has long been a problem for Nazem Kadri, though returning home to the Budweiser Gardens in London has certainly set him up on the right track.
Kadri wasted no time getting things started in the Leafs first pre-season game against the Philadelphia Flyers Monday night, notching one goal and an assist in Toronto's 3-2 shootout victory. This is the type of play the Leafs need from Kadri on a nightly basis, and he is well aware of these expectations.
"That's exactly what it is, just being able to find that consistency and bring it every single night," Kadri said. "Some games I was a great player out there and I was on, and other games I didn't have my best game."
Kadri will turn 24 on Oct. 6, and is developing steadily despite his staggered point totals. During the 2012-13 lockout season, he notched 44 points in 48 contests, and set career highs again last year, collecting 50 points in 78 games.
Moving forward, Leafs general manager Dave Nonis expects a lot out of his second line centre. "Naz has to be prepared to compete for 82 games," Nonis said. "I think if he is, he is going to have a very good year."
Drafted 7th overall in the 2009 draft, Kadri is a dynamic player with great offensive flair, soft hands, and strong skating ability. He can play all three forward positions, is very creative with the puck, and will log just under 20 minutes of ice time per game. There is no questioning his value, but with 5 years of NHL experience under his belt, there is no more room for extended slumps.
"There is no doubting Naz's skill set and the positive impact he can have on the team," said Nonis. "If he is prepared to play for 82 games, we are going to be in pretty good shape with Nazem Kadri."
In the past Kadri was known to avoid the easy play, preferring to work the puck individually. At times this mindset left him out of position, but he has since learned to create offense with his line mates. This season he is expected to start alongside David Clarkson and Joffrey Lupul, though rumors are surfacing that James van Riemsdyk may drop down to line two.
"JVR is a pretty easy player to play with," Kadri said. "He's a smart hockey player and he knows where he is going to be on the ice. Our games complement each other well." Like Kadri, van Riemsdyk boats an incredible scoring touch, and the two could garner some hefty point totals if the chemistry develops.
With roughly two weeks left until opening night nothing is certain, including Kadri's position in a top six role. On Thursday, Maple Leafs head coach Randy Carlyle told reporters that he needs to develop into a dependable north-south player, one who doesn't look for the easy way out. "Kadri has to earn the opportunity to play on the second line," Carlyle said.
But again, given his play Monday night, he really doesn't have much to worry about.
"Production is huge. I'm an offensive player, so that's the first thing," said Kadri, "but… I think I was a little better on the draws, coming back in my own end. I even saw a few penalty-killing shifts. It's just about time for me to develop myself and turn myself into the whole package."
Carlyle knows that Kadri is an offensive talent, though he often limits his ice time in the Leafs end, preferring veteran centres to take those shifts.
"Kadri needs to take the next step," said Carlyle. "These are the types of tests that are along the way. Every game is going to get a little bit more pace to it as we go forward, and a little more aggressive, better lineups."
There is no doubt Kadri made a great impression Monday night, but for Carlyle the bottom line is still evident. "He's going to have to continue to grow."
Love Reading About Hockey?

Subscribe to keep up-to-date with the latest and most interesting hockey news!
| | |
| --- | --- |
| | We hate spam just as much as you |