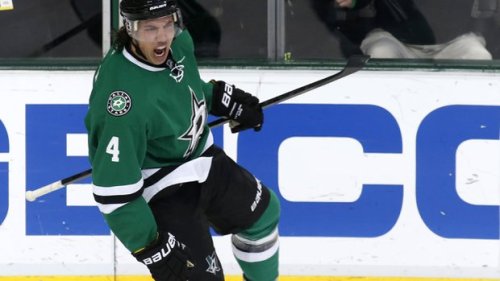 Dallas Stars fans, have no fear. Rising star defenseman Brenden Dillon has spent the entire offseason as an Unrestricted Free Agent after leading his team in hits during the 2013-14 season, but finally came to terms with his team, signing a one year contract worth $1.25 million.
Dillon, 23, has been on a path to the top of the Stars defense in the past two seasons, playing every game but two, leading in hits, and averaging around 21 minutes of ice time per game. He initially asked for a two year contract that would see him earning $1.9 million a year, but was turned down and will likely be looking for a raise at the end of the season and gains arbitration rights, something he did not have this time around.
"It was tough at times, but you work through it and you find a compromise," Dillon's agent Jarrett Bousquet said. "Brenden wants to get in there and prove he's worth more, and I think he'll do that."
Dillon was in the same boat as teammate Cody Eakin, who also sat out of training camp while negotiating a new contract. Eakin struck a deal for two years and $1.9 million a year on Monday.
"Getting Brenden and Cody signed is important," general manager Jim Nill said. "You would have wanted them here for preseason games, but now we have a full complement and a week to get ready for the start of the season, and we feel like we'll be in great shape."