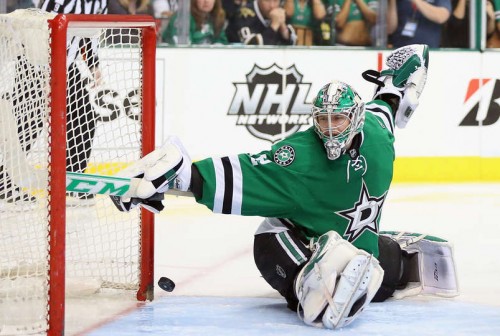 They say everything is bigger in Texas, and it looks like that will be applying to the hangovers of Stars fans as they try to drink away their sorrow from the Dallas Stars' Game 6 loss at the hands of the Anaheim Ducks. This loss means that their season is over and the series is going to the Ducks.
The Stars were confident that they could push a Game 7 and beat the Ducks at home entering game 6. It really looked like they were going to do it especially after having three two-goal leads throughout the game. However, even a two-goal lead with a little more than a minutes left in the 3rd period fell short of holding up as the Ducks managed to score two straight goals after pulling their goaltender, Jonas Hiller. Even worse, the Ducks completed the comeback only minutes into overtime. While the Stars are disappointed with their loss, they, as well as their fans, have much more to look forward to heading into next season.
"It's really fun to coach this team. Embrace this because we've got some good players that are pushing though. My job now is to make them understand how hard it is to repeat it and get better," Stars coach Lindy Ruff said after the game. While the disappointment was obviously there, Ruff was very proud of his team and didn't let the loss phase him. Along with Ruff's challenge of taking his team back to this point next season, Jim Nill has some challenges to be faced in the Dallas Stars front office in this offseason.
Along with the upcoming 2014 NHL Entry Draft, Jim Nill will need to make many decisions on contracts, with several contracts ending this season he will have to decide who to resign, who to let go, and possibly whose contract to buy out. The Stars have four restricted free agents this season, Dustin Jeffrey, Antoine Roussel, Brenden Dillon, and Cody Eakin, as well as four unrestricted free agents, Ray Whitney, Vernon Fiddler, Tim Thomas, and Chris Mueller. Possible buyouts could be players such as Aaron Rome. Also up in the air is Rich Peverley, who is unsure as to whether he will return to play or not after he collapsed this season.
Overall, the Stars put up a great fight throughout this season and made a triumphant return to the playoffs after repeatedly missing for 5 years. While in the playoffs, the Stars fought hard and made the Ducks really strive to win. While Stars fans are upset and disappointed with the loss to the Ducks, we couldn't be happier to see our boys return to postseason play and can't wait to see them back there next year. Until then we've got the Mavericks and the Cowboys. Well…. we've got the Mavericks.