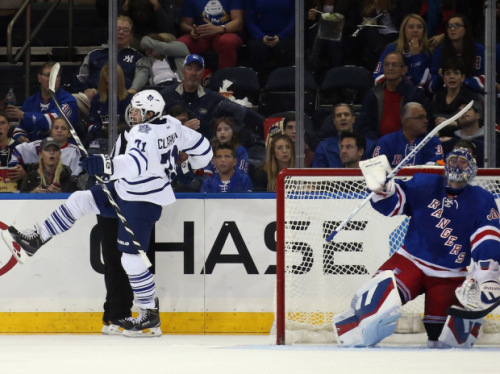 We're only 10 games into the regular season, and already David Clarkson is looking like a different player.
When the Leafs signed him back in the summer of 2013, they were looking for a dynamic, in-your-face-forward who could provide offense in a top six role. Unfortunately he failed to deliver, and by April there was talk of buying out his seven year, $36.75 million contract.
By no means is he worth $5.25 million per season, but now 70 games into his lengthy contract, he may – finally – help Toronto win hockey games.
"I think right now I feel pretty good. I feel back like myself again," Clarkson said.
The 30-year-old winger came into Toronto last season with a desire to win, and some could say he tried to do too much. Deciding to jump the boards and involve himself in a preseason scrum last September, Clarkson landed himself a 10-game suspension that left him behind from day one.
"You're coming from a different organization, you're trying to learn a new system, you're trying to learn new things and all of a sudden you get suspended and jump in," he said. "It's tough just to fire into a season 10 games in."
But this year is different because Clarkson knows the organization, understands his expectations, and all the while there's a familiar face encouraging him behind the bench.
In July, the Leafs promoted former Toronto Marlies head coach Steve Spott to an assistant position under Toronto Maple Leafs head coach Randy Carlyle. Spott assisted in coaching the OHL's Kitchener Rangers for seven years, winning the Memorial Cup in 2003 with Clarkson on the bench in front of him.
"Communication is a strength for myself," said Spott. "There's a ton of pressure playing here as we all know. Hopefully my communication skills and the way I approach the players will be a benefit to the program."
And given Clarkson's recent development, it's safe to say Spott's approach has proven successful.
Now 10 games down one year later, Clarkson already has four points, and is on pace for a 33 point campaign. This is great news for Toronto, considering Clarkson has only registered 32 points or more twice over the duration of his 9 year career. If he can stay healthy, the Leafs might have what they bargained for – albeit a bit expensively – last summer.
"We'd just like him to continue to play strong and be on the puck," said Maple Leafs head coach Randy Carlyle. "He's a much different David Clarkson than we had last year."
The Toronto native added an additional 15 pounds of muscle to his frame this summer, helping his game significantly. On Friday, Clarkson used his size to tally his third goal of the year against Columbus; tipping a Dion Phaneuf slapper passed a screened Curtis McElhinney. To put this in perspective, Clarkson finished last year with 5 goals over a 60 game span.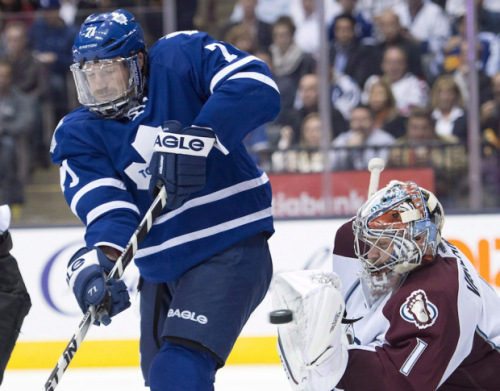 But while size and coaching are important, another key factor has contributed to Clarkson's success.
Since attaining a facial injury in preseason action last month, Clarkson has worn a face shield and has been instructed to keep his hands to himself. Since then Clarkson has not taken a fighting major, and this discipline has improved other aspects of his game. Consequently his minutes have increased, giving him more opportunity to contribute.
But without dressing Colton Orr and Frazer McLaren on a regular basis, Clarkson is Toronto's top enforcer, and he is itching to get back to his fighting ways. "I don't plan on changing," Clarkson said. "At the end of the day I'm going to go back to fighting and doing the things I've always done."
Whether or not this is a wise decision remains to be seen, but right now Toronto should be pleased with Clarkson's play and leave it at that. Although it's absurd that he makes more money than both James van Riemsdyk and Tyler Bozak, he is finally showing signs that he is not a waste of space.
David Clarkson – despite a hefty price tag – is contributing mightily to Toronto's recent success.