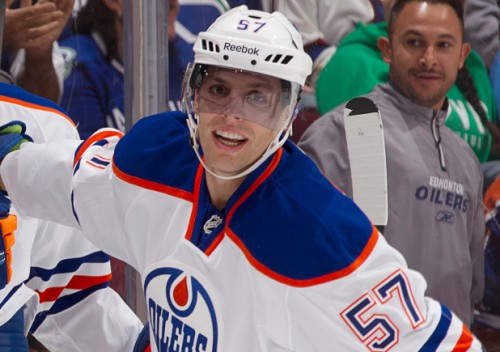 Despite missing the post-season for the eighth straight year, some members of the Edmonton Oilers organization are not about to hang up their skates.
With the IIHF World Championships occurring from May 9 to 25, Oilers' defensemen Anton Belov will play for Russia, Martin Marincin will play for Slovakia, and Jeff Petry will lace up once again for Team U.S.A.
But two of Edmonton's stronger players this season – David Perron and Ben Scrivens – will also lace up, having been named to Team Canada for the first time in their careers.
Perron, 25, led the Oilers in goals this season with 28, while also scoring a team leading eight goals on the power play. In 78 contests, Perron recorded a career high in points, goals, power play goals, and shots this season, and is excited to continue his post-season play despite his Oilers membership.
"The last two years I played in the playoffs (with the St. Louis Blues) and I want to keep on that track where I play late in the season," said Perron.
Perron was one of 11 forwards named to the team, and his offensive flare will be heavily relied upon. No other forwards selected registered as many goals as Perron this season, and even the Washington Capital's Joel Ward, Troy Brouwer, and Jason Chimera – who were also named to the team – could not match Perron's offensive numbers. They had the luxury of playing with Alex Ovechkin, the world's most dangerous goal scoring powerhouse, though Perron was still able to light the lamp on more occasions.
In goal, Scrivens will look to continue his dominant play, and aim to prove himself as a capable starter. Like Perron, Scrivens is coming off a career year where he started a personal high 40 games, and registered a 16-16-4 record. During this span he posted a strong .922 save percentage, compiled four shutout performances, and even made it into the record books for the most saves (59) in a regulation shutout.
Canada can add more players before the tournament begins, but they can only register 25 skaters. However, while the Worlds is great for exposure and keeping fit, Edmonton's top line consisting of Canadian greats Taylor Hall, Jordan Eberle, and Ryan Nugent-Hopkins will not be making an appearance due to injury.
"I'm fine with not going and instead trying to get a head start on summer training," Hall said. "I'm looking forward to starting training as early as I can and making sure I'm as strong as I can be for next year."
This season was a tough one for Oilers' fans, but with off-season recovery and world championship appearances, this team is not calling it quits.
"We have to keep improving, and that's not lost on us at all," said Hall. "For us, it's a big summer, and it will be a big year next year."