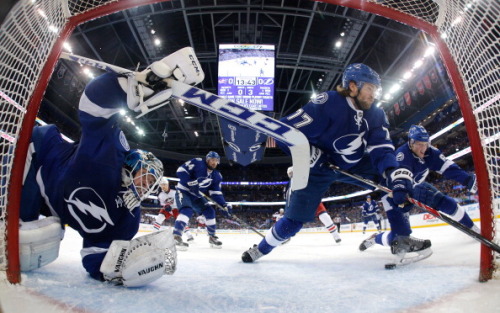 Coming off a disappointing showing in the 2014 playoffs, one where defensive weaknesses were exposed and exploited, the Tampa Bay Lightning entered training camp with a goal of improving their work along the back end.
The primary goal: Limiting scoring chances against, not to mention the workload placed upon your team's goaltender. Or, as coach Jon Cooper put it in his first interview of the new season last Thursday "keeping more pucks out of the back of our net."
General manager Steve Yzerman, along with the coaching staff, addressed that during free agency by signing Anton Stralman. Yzerman also managed to swing a draft day trade with the Vancouver Canucks, acquiring Jason Garrison, minor leaguer Jeff Costello and a 2015 seventh round pick in exchange for a 2014 second rounder.
While those moves definitely look good on paper, it's not a given they'll work out. Only mere days into camp there's still no guarantees, but things at least appear to be headed in the right direction.
How do I know?
For starters, I've heard from many Lightning beat reporters that up-and-coming star Victor Hedman has been meshing quite well with the newly acquired Stralman. If that's the case, there's one solid pairing. Veteran Eric Brewer has spent most of these first few days with 2014 first round pick Anthony DeAngelo and, though this doesn't look permanent, they've both played pretty well.
Sunday's first intrasquad scrimmage also served as a little proof, with a final score of 1-0 white team over the blue team. Yanni Gourde scored the only goal off a defensive zone error that eluded netminder Kristers Gudlevskis. Another test awaits the Lightning Tuesday night, as they host the Nashville Predators to open preseason play. That should provide a better assessment of just how improved their defense really is.
Do they have what it takes to be ranked among the best defenses league-wide? Will that translate into wins? Many factors will play a role in whether that ultimately occurs, but one thing's for certain: The Lightning look to have taken a small step forward.