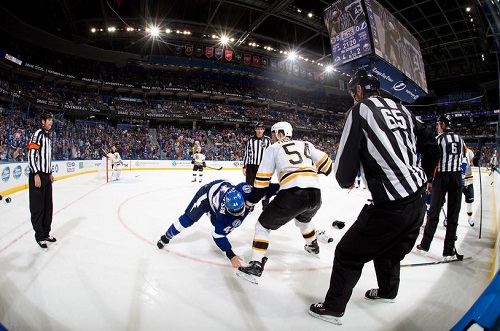 I know.
I know Jon Cooper wants people to know the Lightning are a tough team. That they won't roll over for anyone, etc., etc.
But what Tampa Bay (hopefully) learned on Saturday night is that being tough doesn't necessarily mean needlessly fighting all the time.
Oh, well, fighting changes the momentum! It pumps the team up! It helps provide energy to score goals!
Tell that to the Lightning, who were not only shut out by Tuukka Rask and the Bruins defense, but only generated 23 shots on goal during Boston's 5-0 dismantling of Tampa Bay.
Fighting is already useless (just set the "tone" by getting some hits, controlling the puck and blocking shots). Not only does it provide no tangible benefit, fighting can only hurt your team. First, you lose the perpetrator for five entire minutes. I think the effects of having one less player speak for themselves. Second, said player could be injured during the fight, so what's the point?
The Lightning need to learn to set the tone by playing hockey. And playing hockey was something they forgot to do on Saturday night. The Bruins may have only generated 22 shots themselves, but they outclassed, outhustled and outplayed the Lightning in every facet of the game.
Tampa Bay looked inexplicably lethargic on defense. They were often caught standing around or out of position (on a few goals). They were too conservative with the puck. The power play continued to struggle. Ben Bishop took his first loss of the season. And the Lightning simply let Boston control the pace of the game.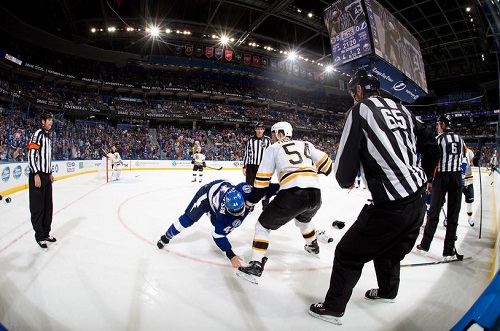 While the Bolts have proven throughout this home stand that they can play with the NHL's elite — taking Pittsburgh to the brink, decimating the Kings and disposing of the Wild — maybe they let the early-season success get to their head. And being at home for so long might have caused them to settle into too much of a groove. Even as they fell further and further behind the Bruins on Saturday, they looked like a team that was on cruise control. Maybe playing Thursday-Saturday-Tuesday-Thursday-Saturday-Tuesday-Thursday-Saturday from the season opener until now put them in a bit of a rut. Maybe they needed a team to come in and remind them that they're not where they want to be yet.
Maybe the loss to Boston will give the Lightning a much-needed wake-up call as they prepare for next Thursday's game against the defending-champion Blackhawks. Maybe after their four off days, they will set the tone in a more conventional fashion against Chicago, with their play on the ice.
I'm not worrying too much for Tampa Bay yet. This is still a team off to a pretty good start, with 10 points in eight games and a strong home stand to start the year. It's a long season, and there will be games like the one on Saturday night against the Bruins. Hopefully, they can straighten things out as the home stand finishes up next week.
They're not in trouble yet. But at this point, Tampa Bay's urge to drop the gloves is more of a crutch than an asset.
Notes:
Forward Brett Connolly was sent back to AHL Syracuse on Sunday. He initially came up because of Martin St. Louis' injury, but St. Louis has played through it. So, back to the AHL you go, Mr. Connolly.
The Lightning's Bishop hadn't allowed more than two goals in a game this season before being pulled in the second period after allowing four goals against the Bruins on Saturday. Head coach Jon Cooper even said after the game that he should have pulled Bishop after Boston's third goal from Patrice Bergeron.
Defenseman Victor Hedman was minus-5 in Saturday's loss. According to hockey-reference.com, only three players were minus-5 or worse in a game last season.
Connolly and defensemen Keith Aulie and Mark Barberio were healthy scratches on Saturday night against Boston.
What does everybody else think?