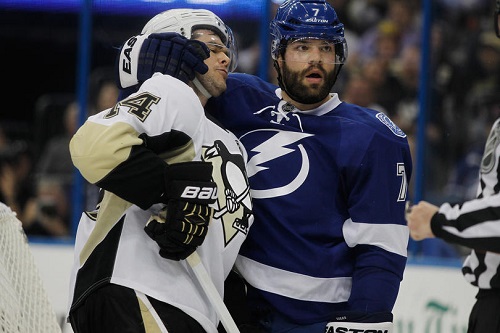 Steven Stamkos fires a shot towards the net, his stick shattering in the process. He rushes to the bench to pick up a replacement — his team needs him after all, they are on a power play. He glides back into the offensive zone, and then — CRACK! — a piece of his skate chips off near the sideboards. You've got to be kidding me!
Now a detriment to his team, Stamkos tries in vain to get off the ice, stumbling like a puppy learning how to walk for the first time. A referee sees the struggling superstar, lifts him to his feet and gives him a shove as Stamkos finally begins moving towards the bench, balancing on one leg. Once Stamkos' equipment-malfunction-filled journey finally comes to a close, Tyler Johnson hops on to replace him. Within seconds, Johnson assists Alex Killorn's game-tying power play goal that draws the Lightning even with the Pittsburgh Penguins.
Fewer than three minutes later, defenseman Matt Niskanen buries a shot from the point, clinching a 5-4 road victory for Pittsburgh on Saturday night. The Lightning fall just short of taking down one of the NHL's elite teams.
And yes, this sequence of events was something that happened during Saturday night's game, but it also functions as a metaphor for what the Lightning are going through early on this season. Stamkos represents the abundance of young talent on the Lightning roster; some would say he is the face of the youth movement in Tampa Bay. His faulty skate and shattering stick — the struggles a young team goes through as it learns to play at a high level.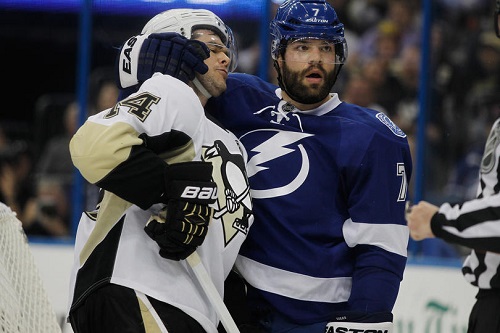 Tampa Bay is in the midst of a treacherous seven-game home stand that includes games against the Penguins, Kings, Wild, Bruins and Blackhawks. And while they may have fallen short against Pittsburgh, the Lightning proved they can hang with the best of 'em. There are just going to be some growing pains before they can truly contend.
Within the first five games of the season, the Bolts have pounded this fact into my head repeatedly. Game One: They play the Bruins tough for most of three periods but fall short after allowing two shorthanded goals. Game Two: They play like a pile of steaming crap but pull one out against the defending champion Blackhawks. Game Three: They dominate Buffalo but have to fight into overtime to pick up the victory. Game Four: They obliterate the Panthers in every way, shape and form. Game Five: They match the intensity of the star-studded Penguins, leading multiple times before eventually falling due to an ill-timed Richard Panik penalty.
The lesson in all of this? The Lightning have a lot of talent but, they also have a lot of youth. Sometimes, the talent will help them win against teams that are more experienced than them. Sometimes, the youth will commit a costly mistake that leads to a heartbreaking loss against a less talented team. It's a process. The Lightning certainly didn't look outclassed against the Penguins, and give me this same team a year from now, I think they win that game.
It's just going to take time. And if there's anybody who has a track record of developing young players, it's head coach Jon Cooper. So, I think they're in good hands. Mark Barberio will learn not to fumble the puck away for a shorthanded goal. Panik will learn not to take tripping penalties with the game on the line in the final minutes.
Building a Stanley Cup contender may be a long process, but the Lightning have a very strong group in place that is not going to provide an easy victory to any team. I can't predict how far out they are from contending, but with one of the best top lines in the game, great puck-possession guys like Valtteri Filppula and Teddy Purcell, and two young, up-and-coming goaltenders in Ben Bishop and Anders Lindback, the Lightning are a fun team with a bright future.
The talent is there. It just needs time to mature.
Notes
To hammer home my point from above, Jon Cooper's quote after Saturday night's loss: "I don't think anybody can watch [that] game and say they outplayed us."
The 5-4 loss to the Penguins on Saturday night snapped a three-game winning streak for the Lightning, marking the seventh straight time they have fallen to Pittsburgh.
Stamkos is the only player in Lightning history to score even strength, power play and shorthanded goals in the same game, which he did Thursday night against the Panthers.
Bishop's lower-body injury must not be too serious, as the Lightning sent Cedrick Desjardins back to AHL Syracuse following Saturday night's loss. Bishop told the media he "felt a lot better the last 48 hours."
AHL Syracuse (1-0-1) won its first game of the season on Saturday night, beating the Rochester Americans 5-1 in its home opener. Nikita Kucherov recorded a hat trick in the victory.
Defensemen Keith Aulie and Mark Barberio were again the only two scratches for Tampa Bay.
What does everybody else think? Are the Lightning just going through a maturation process right now?