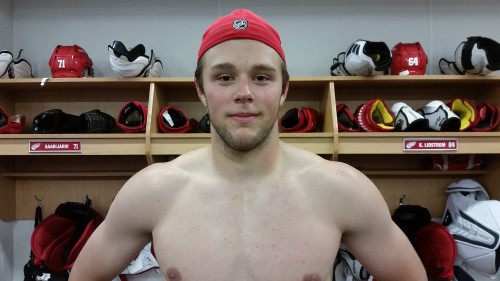 I spoke with 2012 draft pick, defenseman James DeHaas, at the Detroit Red Wings' annual prospect development camp in Traverse City, Michigan. This is part of a series of interviews. This interview took place on July 5.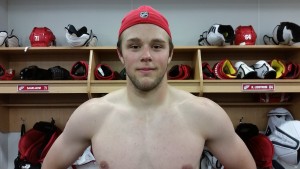 Describe your season with Clarkson last year, your second year with the team.
It was average, I guess. I mean, personally I got a bit more playing time, not only on power play and stuff, but penalty kill, and against other teams' top six. Personally I thought it was good for my development. As a team we finished lower than we thought and the first round of the playoffs we just weren't prepared I guess. So it was a bit of a disappointing season, but the good news is we only lost two guys, so I think next year we should have a really good team.
Describe your game overall.
I'd say I'm a two-way guy. At school I'm on the power play, I can put up a few points I guess. Defensively I think my game's improved quite a bit since I was drafted and I think if I'm going to be playing pro one day it'll probably be the two-way guy, the ability to defend well and jump up and put up a couple of points.
Have any of the new guys come up to you asking for advice?
Yeah, actually Vili (Saarijarvi) here (his stall was right next to his), I'm sitting beside him, and it's his first camp obviously. You know, he's had a few questions and I just sort of try to help him as much as I can. I can remember being a first-year guy. It's a bit overwhelming. You're not really too sure what to expect. But I've tried to just help whenever I can for sure.
Is there anything new that you think you can take away from this camp that you haven't already learned?
I think, previously it was more I've got a lot of time to develop and you know, more of a project I guess. But I guess now it's getting to, a year or two I hope to have a contract and be turning pro, so it's a bit more, I guess the first couple [camps] might have been trying to take away a bit more, now I'm trying to leave a better impression and show them that I'm ready to play here.
What do you think has been the most valuable piece of information that you've received over the last four years here?
I think just the overall aura of the Red Wings, just how competitive and hard-working you've got to be. You've heard Mike Babcock always used to say about being an 'every-dayer', and you know, the compete levels the guys that have been successful have. I think if there's one thing that's remained constant throughout the camps, I'd say that's it for sure.
If you had to compare yourself, your style of gameplay, to an NHL player, who do you think that would be?
I don't know, people have said, or mentioned, I'm similar to Dan DeKeyser, just a bigger guy, pretty good skater, can move the puck well. I'm not overly physical but positionally well and uses his body to his advantage, but he's not going to lay guys out every night, so I'd say that's someone I try to model my game after.
Is there anyone in particular that you really liked to watch growing up?
Not really, I mean recently you watch guys like, you know, the Drew Doughtys and Erik Karlssons and guys that are high-offense. Obviously as a defenseman, that's not the most important thing but I try to take a few pointers from that. Also their ability to defend too is pretty world-class. Guys like that I try to watch for sure.
Do you have a favorite hockey memory?
There's been a few. I can remember when we were younger in house league, you'd take turns playing goalie. I guess I told my dad on the way home after my turn that I wanted to be a goalie. You know, he put me in the driveway and shot those orange street hockey balls at me 'till I was crying and asked me again after if I wanted to be a goalie (laughs). At the time I probably didn't like it too much, but looking back I'm pretty glad that happened (laughs).
What are your goals going into next season?
I just want to have a big year. I mean, the goal from the start was to have a contract offer out of my third year. Whether I'll be ready to go or not, you know, it's hard to tell for now. But, I just want to be one of the top D in the league. I think I have the ability to do that and if our team is successful the way I think we can be, I think that will give me a good shot to do that.
Check out my other prospect interviews in the links below:
Follow me on Twitter @KevinSporkaHOHM