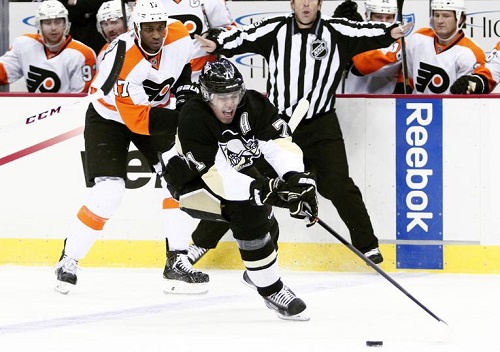 Things have slowed for the Pittsburgh Penguins after their quick 10-4 start to the season. A main reason for the slight faltering was showcased on national television Wednesday night against the Philadelphia Flyers: The Penguins can't find the net.
Things started off well, however, as a slick move across the blue line by Sidney Crosby led to his snap-shot ricocheting off the rebound to Chris Kunitz, who appeared to bury the goal 19-seconds into the first period. The goal was reviewed and waived off due to a kicking motion, the Hockey Gods favoring the Flyers.
A few minutes later a one-timer by Penguins defenseman, Robert Bortuzzo nailed the cross-bar above Flyers' goalie Ray Emery, who was superb in stopping 16-shots in the first period. 31 times the Penguins tried to score and 30 times they couldn't.
Not scoring seems to be the Penguins' curse right about now.
No one seems to be cursed more than alternate-captain, Evgeni Malkin, who came into Wednesday's matchup goal-less in his last 10 games. Whether it be the lack of his mother's borscht, or a challenge from those pesky Hockey Gods, Malkin cannot find the back of the net. It's not for lack of trying, his 48-shots rank him 4th on the Penguins. What is it then? The absence of line-mate James Neal certainly had something to do with it—but Neal has been back for two games, and in Neal's other absences, Malkin hasn't faltered this much, it is usually the other way around. No, it's something else.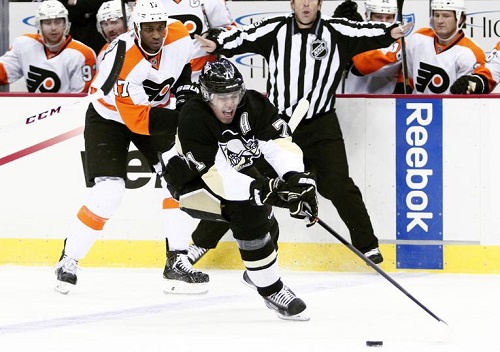 Malkin's play-making abilities have not diminished, however, as he made several nifty cross-ice passes for golden scoring opportunities. Which the Penguins couldn't bury.
Pens fans are having flashbacks of last year's playoffs against the Boston Bruins, where no one could score and Malkin was silent. One of the Penguins' biggest strengths is the so-called "two-headed monster" of Sidney Crosby and Evgeni Malkin. Teams can usually focus on shutting-down one of them, but then the Penguins counter with the other against a weaker matchup. And matchups are the key to hockey.
Matchups? Penguins head coach, Dan Bylsma, needs to rethink what that word means. The Flyers consistently matched Sean Couturier, a fine defensive-forward, against Crosby despite playing on the road. The Penguins, on more than one occasion, has their fourth-line out against Claude Giroux and the Flyer's first line.
What is Bylsma thinking?
Bylsma is beloved by fans and players alike for being a "players' coach." Being a grinding 3rd or 4th liner himself, Bylsma has had a soft spot for players of that ilk—remember the Crosby-Malkin-less playoff series against the Tampa Bay Lightning a few years back? Having confidence in those players is one thing, but consistently matching them up against superior talent is another.
Bylsma was out-coached Wednesday night. And the best way of getting your playmakers opportunities is to match them up against inferior talent. But that is much easier said, than done.
Let's see if the Penguins have learned their lesson when the lowly Nashville Predators come to Pittsburgh Friday night. Let's hope they come out firing.