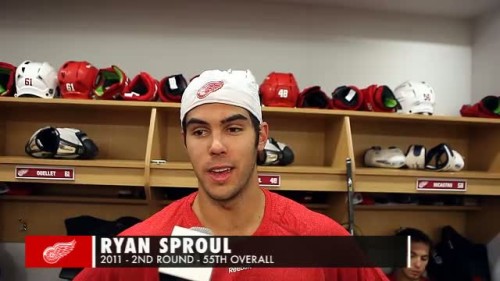 It's April 13, 2014 and the Detroit Red Wings are visiting the St. Louis Blues. On the outside the game seems meaningless: both clubs are headed to the playoffs and it's Detroit's last game of the regular season, but for Red Wings prospect Ryan Sproul this is the opportunity of a lifetime. The six-foot-three, 205-pound defenceman logs an impressive 18:25 of ice time, blocks two shots and generates three opportunities in his NHL debut. "It was exhilarating," he says. "To play [an NHL game] in my first year pro was such a good feeling." This is Sproul's first NHL experience but with dedication and the support of his family, the 22-year-old hopes it will not be his last.
Growing up in Mississauga, Sproul began his hockey career at age four and never looked back. "I liked being in my skates more than I liked walking," he says. Coached by his dad, Phil, from childhood to his second year of triple-A, family support and competition were evident in the Sproul household and central to Sproul's development. His younger brother, Kyle, played triple-A hockey as a goalie and the two competed regularly. "We pushed each other," says Ryan. "There's always been competition but it runs in the family."
Hockey aside, each played basketball, baseball, soccer and volleyball competitively, each feeding off the other. "I don't think one is more talented than the other," says Phil. "We spoke to Kyle about the 'elephant in the room' with Ryan getting so much attention and I believe it was hard for Kyle but he has always been very supportive of his brother."
Fortunately, this support runs both ways. "Ryan is just as proud of my hockey career as I am of his," says Kyle, "hopefully I won't ever lose touch with the game." Kyle injured his knee and was forced to abandon hockey early, but watching his brother allows him to reconnect with the game he loves. "It's tough not getting the chance to play anymore, but hockey gave us something we could share," he says. "It's kept us close."
Long before Sproul was lacing up professionally, Kyle was his chief challenger. "For most of my career before I turned 14 I was a forward so I was always shooting on him," says Sproul. "I think he was probably a little… scared of [my shot]," he says, chuckling. Of course given their competitive nature, however, Kyle says it was nothing he "couldn't handle." Nonetheless Sproul's shot has become prolific since then, garnering attention throughout the hockey world. "I haven't faced one of his shots in a while," says Kyle, "so I can imagine some goalies would rather not have to take his shot on."
Drafted 55th overall in 2011, Sproul is known for his ability to quarterback a power play and his wicked right-handed release. "I can shoot the puck pretty hard and it's pretty accurate," he says. For a player trying to model his game after the Nashville Predators' Shea Weber and crack the Red Wings roster, a commanding shot presence is vital. "He can already shoot the puck better and harder under pressure than 90 per cent of the NHL players," Red Wings player development coach Jiri Fischer told NHL.com last September. Unlike other defenceman Sproul isn't afraid to generate offense, the element of his game attracting the Red Wings organization. "In junior he carried the puck, he joined the rush… Ryan Sproul has things we can't teach in the offensive zone," says Red Wings general manager Ken Holland.
Now in his second year pro with the AHL's Grand Rapids Griffins, Sproul is working to improve his defensive game. "Last year was kind of just getting into the AHL and… this year has been more of a complete defensive rebuild to make sure I can play in the NHL," he says. "I feel like I'm ready now."
To get Sproul to this point, however, his parents had to sacrifice a lot of time and money into their son's development. By the time Sproul entered the OHL, Phil says the family had spent $50,000 to $60,000 (not including the thousands invested into Kyle's athletic pursuits). "We were busy seven days a week with either practice or games during the season and two or three days a week in the off season," says Phil. "It's a big commitment and we had both boys on similar schedules at different locations."
Today, however, the Sproul's hardly see their son at all. "We usually go to training camp in Traverse City Mich. in September and then we go to Grand Rapids about three or four times a season," says Sproul's mom, Paulette. Sproul is home for a quick two days at Christmas or a short visit when he plays against the Toronto Marlies or Hamilton Bulldogs, but he isn't truly home until the summer, depending on the playoffs.
Though for the parents of any elite hockey family, one of the biggest challenges is dividing time fairly amongst each child and striking balance. "It's important to keep supporting and communicating," says Paulette. Growing up both boys were subject to their dad's input on the way home from practices and games, so the lines of communication were always open.
For Sproul, however, the challenges of making it to the professional stage were larger than communication. Initially cut from his junior A club, Sproul had to play an entire year of midget before making the jump to the OHL, the hardest transition for his family and of his hockey career. "Being so young it was tough living so far away," he says. Before joining the Sault Ste. Marie Greyhounds Sproul was still considering the possibility of playing in Michigan and this uncertainty was shared by the entire family. For Kyle, it was especially hard because his parents were focused on working with Ryan's agent on a daily basis. "We weren't finished being a family unit and we all missed him and wondered if [sending him to Sault St. Marie] was the right thing to do," says Phil.
After being drafted into the OHL as a sixth round pick, Sproul was the seventh defenseman and wasn't getting much playing time. At around the January mark of 2011, however, Sproul realized that if he wanted to play professionally then he had to deliver the rest of the year. Sure enough, he posted 33 points in 61 games his rookie season and six months later was selected by the Red Wings. Though considering Sproul played midget longer than any other Red Wings prospect, seeing him notch 14 goals in his draft year is an incredible feat. "The hardest thing for a defenceman in hockey is to score goals," says Fischer. "He did something right." Following a successful rookie season and hearing his name on draft day Sproul realized he could make hockey a part of his life. "I had a good year and ever since then I've never looked back," he says.
As it stands today there's a lot of competition within the Red Wings organization, Sproul ranking as the Wings top defensive prospect according to Hockey's Future and rounding out the top four according to The Hockey News. Given his history, however, Sproul is no stranger to adversity. In his second OHL season he suffered a broken jaw after taking a puck to the face, but six weeks later he was back on the ice wearing a full cage. "Not every young player can do that," says Fischer. Fortunately his family was at that game to help him get back on his skates. "It was not fun to watch, but we're glad we were there to take him home for surgery," says Paulette. Sproul would continue the season and register new career highs in goals, assists, plus/minus and penalty minutes, all in the same amount of time as his rookie campaign playing 61 games. Following his third and final OHL season the next year, Sproul was awarded the Max Kaminsky Trophy as the league's top defender and named CHL Defenceman of the Year.
In regards to making the next jump to the NHL, Sproul plans on facing adversity with the same drive. "I look at it as prized competition so even if I'm the underdog I always want to prevail so that's my motivation," he says. After working on his defensive game all season, Sproul hopes to make a good impression heading into training camp this September. "I can absolutely do it so I just [plan on having] a great summer and sweeping these guys off their feet," he says. According to Red Wings assistant general manager Ryan Martin, consistency is his next challenge but – like always – Sproul is ready to meet it. Now with two pro seasons and an NHL game under his belt, Sproul says "it makes you realize that this is what you want to do for the rest of your career."
There's a lot to credit Sproul's athletic success but in his mind it all comes back to his family. "I'd have to say everything I do on and off the ice has to do with them," he says. From shooting on Kyle and their close but early competitive relationship, to his dad's coaching days and the continuous support from his mother, Sproul has been able to thrive. "Anything we do is competitive so I bring that onto the ice," says Sproul. "I love them and I appreciate everything they've done for me."
He may not be playing along Detroit's blue line just yet, but for now Sproul couldn't be more pleased with his accomplishments. "To say I've finally made it at least to pro is pretty rewarding," he says. "Everyday I wake up and I'm so thankful that this is the spot I'm in right now and I wouldn't have it any other way."