Olympics
Finland abuses the US in 5-0 Bronze Medal win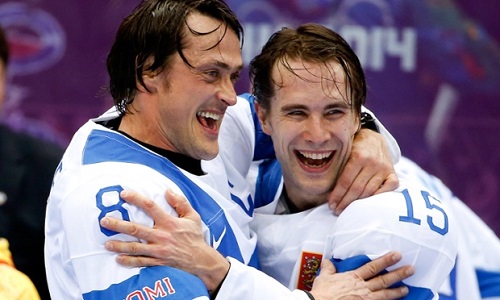 Team Finland came into the Bronze game on Saturday as an underdog to high scoring Team USA, but came away with the medal behind a standup 5-0 performance in a blowout of the Americans.
The first period was all USA as the Americans skated fast and hard and dominated the Finns in all facets of the game. None of that stellar effort resulted in any points despite great scoring chances and even a penalty shot that was a near score after a late Patrick Kane backhander was rejected by Tuukka Rask.
It was early in the second period that the US fell apart and Finland ran away with the Bronze. Captain Teemu Selanne scored the first goal on US goaltender Jonathan Quick -the only one that would be needed to win- his 23rd in the Winter Olympics. Eleven seconds later, Jussi Jokinen netted the next one and the momentum that the US built in the first period was all but gone.
The Americans didn't stop fighting, but they were noticeably out of the game after Kane missed another penalty shot off the crossbar. From then on it was nothing but Finland as they scored three more in the third period in seven-minutes. Jusso Hietanen, got one from left side, Selanne knocked in his second of the game and Olli Maatta finished the bloodletting with the fifth and final goal of the game.
I won't lie, I honestly thought that after the stinging loss to Canada that the Americans would capitalize on a slower and shorthanded Finnish team.
I was dead wrong.
I'm half Finnish, half American so I liked this match. I couldn't lose either way. All I wanted was a good game and I was pulling more for the Finns because as a country, a bronze would mean more to them than the American public.
I'm not saying Team USA didn't want a medal; they just wanted the Gold. They had been one of the best teams in the tournament up until yesterday's 1-0 loss to Canada. They showed up to play Finland in the first period and were the clear winners of the 0-0 draw going into the first intermission. But Finland dug deep for some sisu and came away with the Bronze on the 5-0 blowout and another Rask shutout.
Congrats to Finland on capturing another men's ice hockey medal and big congrats to Teemu Selanne on wrapping up his Olympic career with one Silver and three Bronze. They may not be gold, but there aren't that many former Olympians with four medals of any combination.
Love Reading About Hockey?

Subscribe to keep up-to-date with the latest and most interesting hockey news!
| | |
| --- | --- |
| | We hate spam just as much as you |