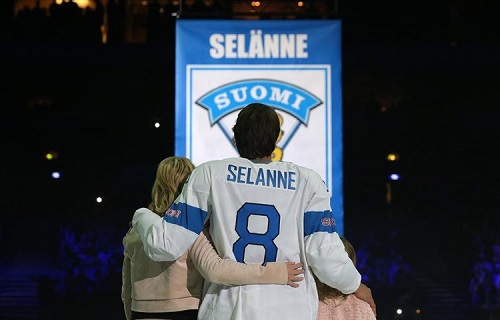 Finland brought a very exciting matchup to an end with a huge victory against Slovakia this morning, placing them in third for Group B for the 2016 IIHF World Junior Championships.
Prior to the matchup, Finland retired the number 8 in honor of Finnish hockey hero and legend, Teemu Selanne. The Finnish Flash began competing for Team Finland internationally in the 1988 IIHF European Junior Championships and made his most recent and final international appearance at the 2014 Olympic Games in Sochi. During the course of his international playing career, Selanne earned multiple bronze and silver medals.
Coming off of a very disappointing 6-4 loss to Russia, Finland was looking for some redemption to get themselves back in the competition, and that's exactly what they did in this morning's matchup against Slovakia. Unfortunately, Finland found themselves in an early hole when Slovakia drew first blood, scoring on the powerplay less than ten minutes into the first. Just two minutes later, the score was 2-0 as Slovakia notched another goal, which was declared to stand after review of the video footage.
"Obviously you don't want to start a game like that, but I don't think at any point the team thought that we weren't going to come back," Finnish forward Kasperi Kapanen later said.
Come back is exactly what the Finns did when they fired back with a powerplay goal less than five minutes before the ending of the period. The first stanza came to an end with Slovakia still leading 2-0, but Finland wasn't going down so easy, evening the score to 2-2 off of a rebound early in the second period, sending the arena into a frenzy. It was just over a minute before the end of the 2nd when Finland took its first lead of the night, leading Slovakia into the final period 3-2.
With just 28 off the clock in the final period of play, tournament point leader Jesse Puljujarvi notched an incredible goal on Slovakia to extend the Finnish lead to a big 4-2, further separating themselves from the Slovakians. Relentless at this point, the Fighting Finns managed to send the puck into Slovakia's net four more times before the end of the game, with Slovakia only bringing in one more goal, bringing the final score to an incredible 8-3 and sending Slovakia away in embarrassment.
Finland takes on the Czech Republic tomorrow to continue the preliminary round of competition.