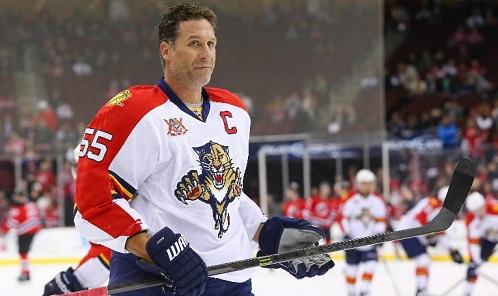 Add a new name to the waiver wire.
Ed Jovanovski-longtime fan favorite, recent pylon-has been designated for assignment by the same club that drafted him first overall back in '94. If the 38-year old Windsor, Ontario native successfully clears waivers, he will be bought out by his now former club. Whether or not General Manager Dale Tallon opts to use a compliance buyout on Jovo remains to be seen; allotted to the club per the new Collective Bargaining Agreement, neither of the two special buyouts have been expended. Set to expire this season, the provision allows for a club to remove a contract from its books without being taxed with a penalty against the salary cap. Refresher: the Panthers bought-out failed Jason Garrison replacement Filip Kuba, but utilized its standard form to aid them in reaching the cap floor.
A veteran of some 1128 NHL contests, Jovocop endeared himself to fans with his rough and tumble style of play, his staplegunning checks bringing fans at the old Miami Arena to their feet more often than not. Familiar with the interior of the sin bin, the Captain logged 1491 PIMs over the course of his long career, complementing 137 goals and 500 points. Packaged in a deal that brought the Russian Rocket Pavel Bure to Sunrise, Jovanovski played through stops in Vancouver and Phoenix, before rejoining the club that brought him into the league in the summer of 2011 as a Free Agent. Playing a central role in the squad's miracle run to the postseason, Jovo paved the way, leading the team and mentoring young rearguards Erik Gudbranson and Dmitry Kulikov.
This may be the death knell of a long and illustrious career; odds are, the Cats retain their former wunderkind in a hockey operations position. Until then, his final calling card in The Show consists of earning a Match Penalty, following the elbowing of a 24-year old rookie in the face-succeeding a clean hit-before jumping the guy and beating his ass for no apparent reason. OLD TYME HOCKEY.