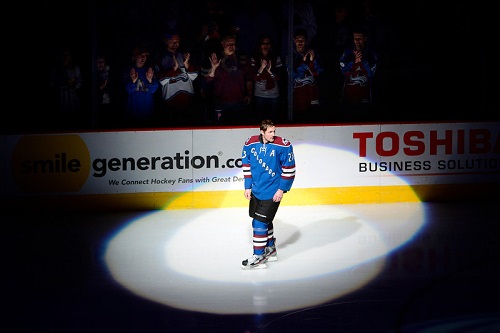 After completing 14-seasons –all with the Colorado Avalanche- forward Milan Hejduk announced his retirement from hockey on Monday.
Drafted by the Quebec Nordiques in 1994, Hejduk was one of the best players in franchise history and its first to retire after having spent his entire NHL career wearing the Avalanche logo. His franchise numbers rank highly after appearing in 1020 games for the Avs and his presence on the ice was always steadfast.
Having begun to slow down over the last few seasons, and not making the roster this season after having served as team captain following Adam Foote's retirement in 2011, Hejduk stepped away from the game and didn't look back.
"I had a blast," Hejduk said. "It was a great 14 years. I have so many great memories, with 2001 being the best obviously, winning a Stanley Cup," adding "I've enjoyed spending time with the family and doing stuff I couldn't do before."
Hejduk's numbers with the Avs: First in franchise games played, fourth in goals scored and points and fifth in assists. He not only is a Stanley Cup winner, but is the proud owner of an Olympic Gold Medal from the 1998 Nagano games and had three All-Star selections.
The club in the end needed to move on from the aging former star and Hejduk didn't appear to have an issue with it either. Always a team guy, he took that in stride but would entertain and welcome the opportunity to return to the Avs someday in a coaching or front office role.
Until then Hejduk is content with his decision to stay at home in Parker, Colo. and spend time with his family. "I don't feel like I've missed the game that much. I like to watch it and be around hockey, but I don't really miss it." Hejduk said.
The Avs have been on a roll the last five years retiring numbers. Joe Sakic in 2009, Peter Forsberg in 2011, Foote in 2013. Hejduk will undoubtedly have his 23 raised to the rafters before the end of this year.
He's earned it.