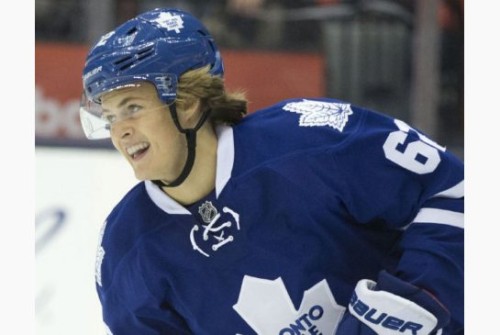 1. The Season is Finally Over
It's been a forgettable year for the Toronto Maple Leafs but the nightmare ends tonight when they face the Montreal Canadienes at 7 p.m. The Leafs rank 26 giving up 3.14 goals-against-per-game and sit in the bottom 10 involving special teams. Jerseys were tossed, ticket prices plummeted and Toronto's top line forgot how to score. After the buzzer mercifully sounds players, fans and coaches alike can start looking ahead to what really matters: the NHL draft.
2. Dylan Strome and the NHL Draft
Assuming the Leafs don't earn the right to draft McDavid, the top picks in this year's draft are still highly valuable. Should Buffalo steal McDavid, Arizona acquire Eichel and Edmonton seize Hanifin, the Leafs are next to select playmaking centre Dylan Strome. The Erie Otter led the OHL with 129 points in 68 regular season games and continued to produce when McDavid was injured. It's no secret that Toronto desperately needs a top line centre and with Bozak likely being dealt this summer, acquiring Strome could breed positive change for the blue and white.
3. A Youthful Lineup and Talented Prospects
The team on the ice today is nothing to flaunt over but for the first time in years, the Leafs have a handful of elite prospects at their disposal. William Nylander could crack Toronto's roster as early as next season and Connor Brown leads the Marlies with 59 points. Beyond offensive flare, Frederik Gauthier wins faceoffs, blocks shots and kills penalties – the bread and butter associated with any model franchise. On defense, Stuart Percy showed signs of maturity to begin the season and should lace up along Toronto's blue line come October. What's more, assuming the Leafs acquire Strome Toronto may finally have the depth up the middle to encompass a winning franchise: Nylander and Strome could play on lines one and two, with Gauthier falling into the three/four spot. Amazingly, this model doesn't account for Nazem Kadri, one of the few key players expected to stick around next season.
4. Change is on the Horizon
Since being miscast into a leadership role Phaneuf has failed to advance Toronto on a path anywhere close one of success. It's not his fault he was selected to carry this team but that doesn't change the fact that he most likely won't be a part of the Leafs organization next season. Further, Kessel may miss the 25-goal mark for the first time since his sophomore season in 2007-08 (excluding the lockout year) leading many to question his future in Toronto. Not surprisingly, given Toronto's future centre depth and Bozak's constant inconsistency, the "first line centre" may share a similar fate. Lastly, as a fitting end to an otherwise abysmal era, Colton Orr will lace up for the Leafs in their final game against Montreal. Aside from unlikely Toronto futures, however, these players are the longest standing Maple Leafs on the current roster, representing the ruin this franchise has become. The season is ending but to the delight of millions it seems this awful era is also coming to a close. Orr aside, the best part of this reality is that each player brings in picks and prospects to further Toronto's return to respectability.
Love Reading About Hockey?

Subscribe to keep up-to-date with the latest and most interesting hockey news!
| | |
| --- | --- |
| | We hate spam just as much as you |