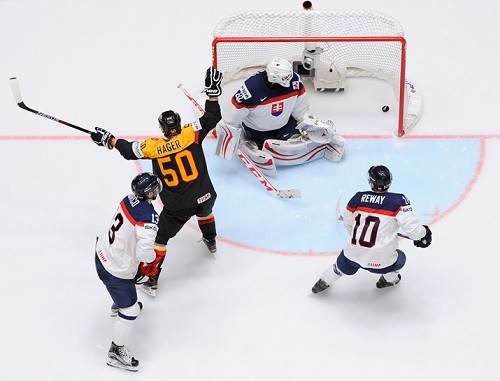 After losing both of their opening games in the 2016 IIHF World Championships, Germany looked likely to struggle their way through the rest of the group stage, beginning with a meeting against Slovakia this afternoon.
The Germans came close in their opening matchup, going all the way to a shootout against the French before Patrik Laine and the Finns demolished them 5 – 1 in their second outing.
With today's game in St. Petersburg, the Germans were slow out of the gate with Slovakia getting chances early. The first chance for Slovakia rang off the post, a scramble in front left Libor Hudacek alone and his shot beat a crowded Timo Pielmeier but the goaltenders best friend was there to keep the shot out.
Minutes later the Slovakians finally got their luck, initially it looked like the goal was being waved off but despite Pielmeier'd best efforts, Peter Cehlarik's bad angle shot trickled underneath the German goaltender to give Slovakia a 1 – 0 lead.
Fast-forward to the second period and the Germans came to life. Less than five minutes gone in the second, Felix Schutz fed Patrik Hager out front who one-timed the puck low and into the net to tie the game at one a piece.
Just minutes later the Germans were celebrating again this time as Philip Gogulla fired a wicked one-time from the blue line to give the Germans a 2 – 1 lead, a lead they wouldn't give up for the rest of the game.
The Germans were back on the board again late in the period with a powerplay strike. With Andrej Meszaros in the box for charging, Patrick Reimer collected the puck with his feet, fell to his knees and slid the puck past Slovakian goalie Branislav Konrad to give Germany a 3 – 1 lead going into the final 20 minutes.
It wasn't long into the final frame before they were back on the board, Brooks Macek danced his way into the zone before firing a wicked wrist shot that Konrad didn't get enough on, bouncing off him and over the line which gave Germany a 4 – 1 lead and saw Slovakia swap goaltenders as Julius Hudacek came in to see out the rest of the game.
A few penalties followed in the next few minutes with the Slovakians showing their frustration, but late in the game a fortunate rebound fell to Dominik Kahun to give Germany an emphatic 5 – 1 victory for their first win of the tournament.
Slovakia dropped their first points of the tournament in today's game, following a 4 – 1 win over Hungary and a 5 – 1 victory over France, now they face Belarus tomorrow as they look to get back on track.
Germany will have their toughest test yet in their next meeting, they have a day off tomorrow but take on Canada on Thursday.