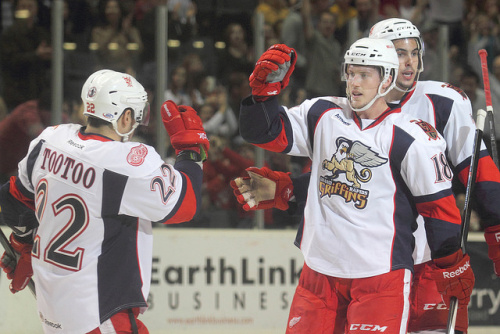 GRAND RAPIDS – It's all about depth and the Detroit Red Wings have that. A good portion of the roster that's about three hours west on Interstate 96 from Detroit could be on the NHL roster back in the Motor City.
That's good in some aspects, but it's even better for the Grand Rapids Griffins as they look to make the Calder Cup playoffs for the third consecutive year.
Just over one year has passed since their 2012 Calder Cup Championship, and they were ousted by the eventual Calder Cup Champions, the Texas Stars, in six games in the second round last year.
The squad did lose a few key components from last year, including assistant coaches Spiros Anastas to the University of Lethbrdige in Alberta as head coach and Jim Paek as director of the Korea Ice Hockey Association and head coach of the South Korean national team.
They were replaced by Pat Ferschweiler, former head coach at Western Michigan University and Dave Noel-Bernier, former assistant coach of the Grand Rapids Christian varsity team and director of the Grand Rapids Blades youth program.
There are no changes in net, as Petr Mrazek will get the majority of the starts for the Griffins, while minor league veteran Tom McCollum will back him up. Jake Paterson and Jared Coreau are formidable players that will play in the lower-tier leagues that can be called upon when needed.
On defense, say goodbye to Adam Almqvist (KHL), Max Nicastro (Slovakia) and Gleason Fournier (ECHL). They are replaced by some exciting NHL prospects that really showed a great camp in Detroit.
The most notable defenseman, Xavier Ouellet, should've made the Red Wings roster out of camp, but because of restrictions and the possibility of losing Jakub Kindl to waivers, General Manager Ken Holland sent down Ouellet in hopes of keeping the depth and calling him up again someday.
Alexey Marchenko, Mattias Backman, and Nick Jensen all will be on the blue-line for the Griffins this year. Jensen and Ouellet, along with second-year AHL'er Ryan Sproul are the top prospetcs that could be called up anytime during the season to the big squad in Detroit.
Also returning includes veterans Nathan Paetsch and Brennan Evans along with second-year player Richard Nedomlel.
Here's where things get interesting. The forwards had a few changes, but the depth is there, giving the Griffins one of the most balanced attacks in the AHL.
Luke Glendening is gone, staying with the Red Wings, along with Gustav Nyquist and Riley Sheahan, and for the moment, Andrej Nestrasil. Tomas Jurco was sent back to the Griffins because he has eligibility left in the AHL, allowing the depth to flourish, but keep weaker players (Dan Cleary) up at the NHL level.
That's ok, losing those four players will hurt, but the firepower returns in Landon Ferraro, Teemu Pulkkinen, Mitch Callahan and new comer Kevin Porter.
Surrounding those players, newcomer Mark Zengerle, veteran and captain Jeff Hoggan, Marek Tvrdon, Colin Campbell, Tomas Nosek, Kyle Bonis, Louis-Marc Aubry, Andreas Athanasiou, Tyler Barnes, Shane Berschbach, Martin Frk and Adam Hirschfeld.
Much of the team isn't changed, which is good heading into a new year. The Griffins have a real shot to compete for the Calder Cup. Their roster is filled with NHL-caliber players, which should scare a lot of the AHL.
Mrazek will back-stop a powerful defense, while Ferraro, Pulkkinen, Callahan and Porter will all head the attack up front.
There is one dark-horse as well. Anthony Mantha, who is currently out with an injury will more than likely get a chance to play in Grand Rapids for a rehab stint before more than likely being called up to play with the Red Wings.
If there's an opportunity to see Mantha play at Van Andel, go watch this kid in action.
Don't be surprised to see him there a few times though, depending on injuries and possibly the Calder Cup Playoffs too.
Out of 76 games last year, the Griffins were 46-23-2. This year, they should win at least 40 games, if not close to 50. The key will be their defense, the lack of injuries at the NHL level.