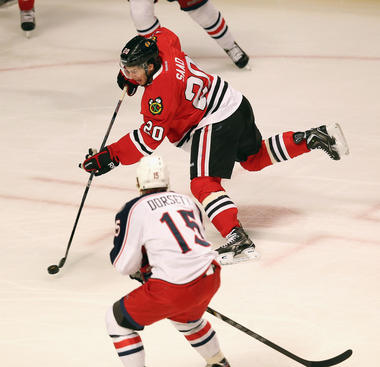 Not so breaking news: the Blackhawks won. Again. Also, water is wet and the sky is blue.
Going back a few games, the Blackhawks took a 4-3 win over the Vancouver Canucks followed by a 2-1 win over the San Jose Sharks a few nights later. They were able to shut out the Columbus Blue Jackets by 1-0. The Edmonton Oilers were the next victims of a 3-2 loss to Chicago and the Blackhawks went on the road and beat the St. Louis Blues 3-0. Chicago struggled at first but came from behind to beat the Blue Jackets a second time, this time going into overtime to win it 4-3.
Chicago is on a tear through the Western Conference. The Blackhawks have taken a point in every game they've played since March of last year. It's been a calendar year since Chicago hasn't brought home a point.
A lot of that is thanks to the first two lines.
Patrick Kane leads the team in goals (10), assists (15) and overall points (25). Marian Hossa and Jonathan Toews trail just behind Kane in goals with nine each. Toews has 18 points on the season while Hossa has 18, again, both just behind Kane. Patrick Sharp and Duncan Keith each have 11 assists on the year so far to trail Kane.
All of the names mentioned above are on the first two lines. Toews and Hossa are typically on the first line, lately with Daniel Carcillo. Hossa, incidentally, will be suiting up for his 1,000th career NHL game when he takes on his former team, the Detroit Red Wings. Hossa will become the 12th player to reach 1,000 games as a member of the Blackhawks.
Along with the first line, Sharp and Kane are on the second line together and Keith is paired up with his partner-in-crime Brent Seabrook to be the first defensive pair.
That's a strong lineup to start the game every night.
In net, Ray Emery has been doing a stellar job as Corey Crawford has been bouncing back and forth between the pipes and the bench. Crawford started against St. Louis but was replaced by Emery at the start of the second period. This had nothing to do with his performance, as he held strong against an aggressive Blues team the entire period. But Crawford may have sustained a minor injury during that first period and Head Coach Joel Quinneville made an adjustment.
But having Emery in net isn't a bad thing for Chicago. He was named the NHL's third star for February as he went 7-0-0 with a 1.66 GAA and a .941 save percentage through eight games that month.
Dave Bolland is still missing from Chicago's lineup as he is out with an upper body injury. While Toews scored just 12 seconds into Chicago's game against St. Louis, it was Bolland who scored just ten seconds into a 4-1 win over the Dallas Stars a year ago. Just as a sidenote, Andrew Ladd of the Winnipeg Jets scored just eight seconds into his game against the New Jersey Devils on the same night that Toews netted his early. Perhaps there is something about current and former Blackhawks players scoring quickly.
Toews' goal is recorded as the fourth quickest goal in Blackhawks' history and came on the last day of February. The quickest belongs to Brent Sutter, who scored just eight seconds into a game against Vancouver a few years back, on February 5, 1995. In another strange twist of fate that only Blackhawk history can provide, the quickest hat trick in NHL history also belongs to Chicago. Bill Mosienko scored three goals in 21 seconds in a game against the New York Rangers in 1952. More specifically, February 9, 1952.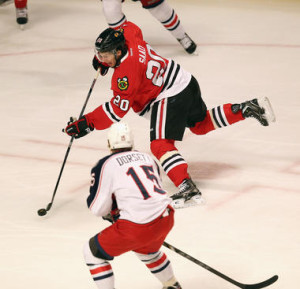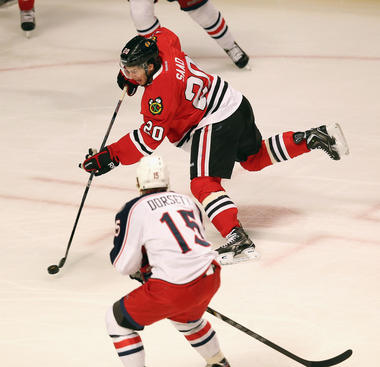 While Chicago has a tradition of scoring quickly, they also have a reputation for being a tough and gritty team. All through the organization's history, they have been known for being a grinder-type club; and a city that follows suit.
Which might be why Chicago fans are flocking to Andrew Shaw. Though only in his second NHL season, the forward is developing a reputation and influencing people on and off the ice.
Last season he recorded 12 goals and 11 assists in only 37 games. That ability to eagerly make his mark on both the NHL and Chicago instantly made him a fan-favorite, and a go-to guy for Quinneville.
But we have to keep in mind that he is only a second year player. He's young, still learning how to play hockey in the NHL. His hit on Joe Pavelski very late into the game against San Jose left an impression on more that just the Sharks. Tough and scrappy play is good and fits well in Chicago, as long as that kind of play doesn't stretch into dirty hits and cheap shots. Those are the kinds of moves that can get a player suspended and traded. Developing that kind of play may also cost Shaw, and the Blackhawks, the benefit of the doubt on future plays in the eyes of officials.
But so far, it's working. In Shaw's 21 games so far this season, he has five goals, the latest coming recently against St. Louis, and three assists for eight total points. He's also registered 17 penalty minutes and one game-winning goal. For his career, he's registered 31 points in 57 games. Awfully impressive for a sophomore who is building steam as he rolls along.
Quinneville won't muzzle the youngster's play, especially since it's working for Shaw and the Blackhawks. But the veteran, Stanley Cup-winning coach will warn Shaw that the physical road he's heading down may cost him in the long run. Shaw will have to maintain this physical style he's grooming, maybe even drop the gloves every now and then. Again, this isn't necessarily a problem, but more of something to look for in the future. Plus, if Shaw can be a physical presence as well as show strength in the offensive zone, that's even better. And Chicago's fans will love it.