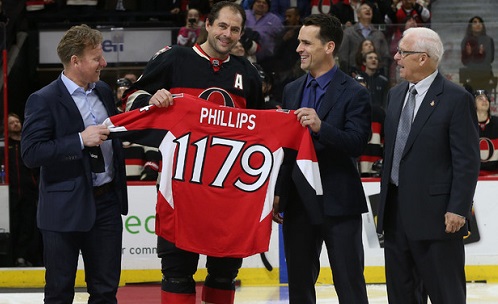 Training camp hasn't even begun for the Ottawa Senators and they've already been dealt some significant injury news.
Earlier this week it was revealed the Senators' current longest-serving player, Chris Phillips, suffered a cracked disc in his back – another setback in what has been a difficult past 12-plus months for him. Dating back to last season, Phillips struggled to stay healthy as he dealt with additional back issues that limited him to just 36 games.
His absence was surprising, considering the fact he has played in a franchise-best 1,179 games out of the 1,360 played by the Sens in his 17 seasons (including a stretch of seven seasons from 2006/07-2012/13 when he missed a combined three games). That Phillips – whose durability has been his trademark throughout his career – hasn't been able to stay in the lineup is troubling.
What's more worrisome for the 37-year-old is his injury woes come at a time when the Sens are only getting younger – especially on the back end. It's no secret the youth movement has taken flight in Ottawa, and it seems Phillips is destined to be left behind with players such as Chris Wideman and Mark Borowiecki appearing ready to take on bigger roles.
So perhaps it's time the Big Rig calls it quits.
There's no doubting the tremendous influence he could have on the team, even at this point in his career, given his 17-year tenure. But the simple fact is Phillips's advice is about the only part of his game that looks attractive now as his level of play has seen a significant drop while his age has continued to grow.
Last season proved exactly that when he was thrust into top pairing duties with Erik Karlsson in the absence of Marc Methot. While playing alongside a superstar no doubt has its advantages, it is by no means a guarantee that the on-ice product will be satisfactory. Phillips struggled to keep up with the much younger, more agile Karlsson – and his numbers reflected as much.
He had team lows in Corsi For percentage (44.4) and Fenwick For percentage (42.8) in 2014-15, while Karlsson – who had a huge turnaround when Methot returned to the lineup – ranked top-five in each category. It's difficult to put too much stock into last season, given the small sample size and his increased workload, but he certainly didn't do much to help his case.
Sure Wideman has never played a game in the NHL, and Borowiecki has only 84 games to his record, but neither will be asked to be a horse. With Karlsson, Methot, Cody Ceci, Patrick Wiercioch and Jared Cowen around, the top-four will be filled no problem, with the fifth dropping down to the third pairing along with Wideman or Borowiecki.
Safe to say the Sens look poised to make the post-Phillips transition seamlessly. If this is the end, he walks away having lived almost every kid's dream: go first overall, play your entire career in one city and make some good money doing so. Aside from winning a Stanley Cup, which he almost did in 2007 (see: Anaheim Ducks), he has practically done it all.
He has no doubt cemented his legacy as one of the Senators' all-time greats, leaving his mark on the city and the franchise.