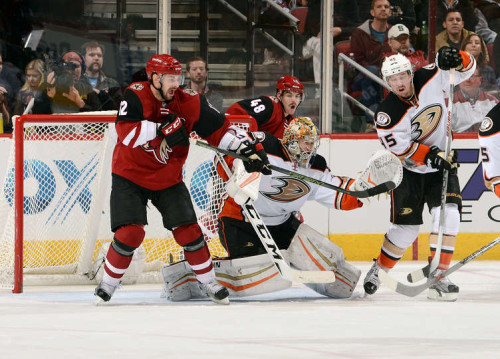 The Road This Far
After surprising the NHL by losing their first four regular season games (three of those games being Shutouts) the Ducks deemed it a much needed wake-up call and promptly won the next game against Minnesota 4-1. However, their road trip facing Nashville, Minnesota, Chicago, Dallas, and St. Louis proved disastrous. with a scoring drought, Anaheim was coming close to surpassing the number of shutouts against them for the entire last season. Coming home seemed a blessing as they brought a few wins against Nashville, Florida and Columbus in the Honda Centre. Anaheim then pulled out two OT finishes, a win, and two close losses to Nashville and the New York Islanders. The last five games have shown promise, with more consistency with three wins and only two losses (albeit that loss was one of the 6 shutouts against Anaheim this season already).
Unfortunately, we put ourselves in this position in the first 10 games. These are games you have to win -Bruce Boudreau
After just passing the quarter mark on the season, and with 23 games already under their belt, its clear the Ducks will need to put in something extra to catch up to their own standards set the previous year. Comparatively, at this point in the season last year the Ducks had lost only four games. With only 20 points to show for it, the Boudreau has quite the uphill battle ahead of him. With a record of 8-11-4, putting them 29th in the league for Away games with 8 losses on the road.
However poorly the season began, there are still openings for the team to take. They have many places in need of improvement but one of the areas where they excel in is their Penalty Kill. Anaheim maintains the highest PK% in the league, with 87.65%. Individually, the team needs better numbers. 17/23 players are in the negatives with their +/-.
After the full return of their captain post-appendectomy in late October, Ryan Getzlaf had a slow start to his season, which finally came to fruition last night against Calgary with his club-record-tying 5 assists (as well as personal record for points in a game). And With a rocky start, Corey Perry now tops the team for individual Points with 16 comprised of 7 goals and 9 assists. Followed by Ryan Getzlaf with 15, Sami Vatanen with 13, and Rickard Rakell with 10 points.
Getzlaf on Anaheim's 5-3 comeback the other night against Calgary:
It was big to play from behind and have the belief in the locker room that we could come back. We have to be able to maintain throughout a hockey game. There are going to be ups and downs and goals scored against. We did a better job of that tonight. Not all night, but we did a lot better job.
Still to Come
With 59 games left in the Season, the team needs to win at least 39 (66%) of the remaining games to make the post-season. These numbers are based on last years 8th place regular season finish in the Western Conference with 97 points. Putting their current record into perspective, last year the Ducks earned 109 points in the regular season. To get the same amount of points, Anaheim would have to win 45 (76%) the remaining 59 games.
But even with such a slow first quarter of the season, Anaheim still remains above both Calgary and Edmonton in their Division.