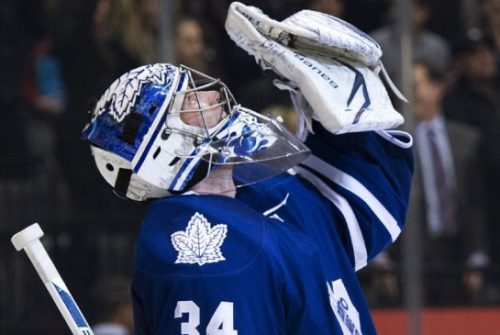 Despite some rough outings in recent years, Toronto Maple Leafs goaltender James Reimer is not looking to be anybody's backup.
"I was told that there is a definite opportunity, and that's the mindset I'm coming in with, to really take advantage of the opportunity that's going to be given and earn the No. 1 spot," Reimer said on Sportsnet 590 The Fan last week.
But as was the case last season, the starting role will not be easy to earn. Both Jonathan Bernier and Reimer have played well this pre-season, each delivering shutout performances. "Exhibition's all about getting ready," Reimer said. "It's all about shaking off the rust and getting prepared."
And Reimer – more than anyone – has collected his fair share of rust in years past. He was faulted for the Leafs playoff collapse two years ago, lost his job to Bernier, and was blamed again for the Leafs late season breakdown a year ago.
"Time is a big thing," said Reimer, who was applauded for his efforts Wednesday night after stopping all nine shots faced. "A lot of emotions go away and you just look at things logically per se and you just think about them."
But in four NHL seasons, Reimer has a 65-48-26 record; a very respectable .914 save percentage, and has only allowed 2.85 goals-per-game. By no means are these numbers spectacular, but it cannot be said Reimer does not give his team a chance to win. He has logged 7,600 minutes for arguably the worst defensive team in the league, and always comes to the rink ready to compete.
"We're not casting James Reimer to the side," said Maple Leafs head coach Randy Carlyle. "We're going to need James Reimer to go in and play and win us hockey games. It's as simple as that."
Over the span of his relatively young career, Reimer has shown signs of brilliance. He has good size for the crease position, is strong on his glove side, and has a determination like no other. Playing in Toronto, skaters need to have a pretty thick skin, and Reimer has consistently held his own.
"The mental part of the game is the biggest part of the game and the hardest part of the game," Reimer said. "You work as hard as you can physically to be in the best shape possible, but the game is 95 per cent mental. It's the part of the game that dictates… how you play."
Bernier carries a very safe game with minimal rebounds, whereas Reimer tends to lead a more reflexive playing style. When Reimer is in the zone he can dominate, but being sidelined without the opportunity to bounce back, and then being asked to stop close to 35 shots a night? It's no wonder he dropped 12 of his last 14 starts.
Ironically, Reimer and Bernier were posting fairly comparable numbers for the first two months of the year (Bernier had a .928 save percentage, while Reimer had a .931 save percentage) but then – as a result of not playing – Reimer fell behind.
Carlyle began to rely more consistently on Bernier near the end of December, despite Reimer playing better than "just okay." This Carlyle comment came after Reimer was pulled in a 3-2 loss to the Detroit Red Wings on Dec. 21, and Reimer's days in Toronto seemed numbered.
But now that he's returned, his teammates are excited for what lies ahead. "We have two capable goalies, guys who can be starters anywhere," said Leafs defenceman Cody Franson. "Not every team has the luxury of that."
However, to earn the number one spot Reimer will need to impress early. "Whoever is in net is going to have to win games," said Leafs assistant coach Peter Horachek. "That's what it comes down to." For Reimer, this is his focus, and everything else is irrelevant.
"I'm just going to play my heart out like I always do and see where everything falls."