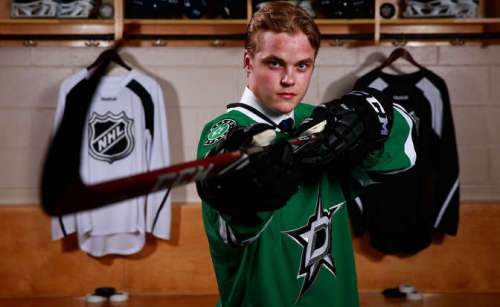 It seems as if the Stars have done it again, picking up great young talent in the first round of the draft. Last year's first pick, 18 year old Valeri Nichushkin, became a sensation in Dallas, making his way up to the first line and playing with Jamie Benn and Tyler Seguin, as well as representing Russia in the Winter Olympics in Sochi. It seems as if the Stars may have another future great on their hands in defenseman Julius Honka.
After being selected 14th overall in the 2014 NHL Draft, Honka got to compete in the victory green Stars jersey as a part of the NHL Prospect Tournament this past week in Traverse City. While competing, Honka showed exactly why he was selected in the first round, demonstrating tremendous skill moving the puck and getting it to the net as well as playing strong defense. Texas Stars coach Derek Laxdal, who coached against Honka in the WHL last season, described Honka as, "a forward playing defense."
This great play has many fans asking, will we see Honka in the NHL this season? While he's got the skill, it's probably not likely that we'll see him for at least another season while he hones his skills and prepares himself for the big leagues. While it would be nice to have a right-handed shot on defense, something the Stars have been searching for, they will most likely have him down in the AHL or in the Finnish Elite League for at least another season, not wanting to rush him, something that many feel happened to Val Nichushkin last season.
"He's got to get a little stronger. He's got to get that man's strength," said Stars scout Dennis Holland. "He's got to continue working on his game and defensively he has to make sure he is at the right spot at the right time. These young defensemen will jump a little early trying to make offense, and he has to make sure that he takes care of his own zone. That just comes with maturity. But he's a pretty well-rounded defenseman. He makes good plays, and he's positionally sound."
Read more about Julius Honka HERE
Love Reading About Hockey?

Subscribe to keep up-to-date with the latest and most interesting hockey news!
| | |
| --- | --- |
| | We hate spam just as much as you |