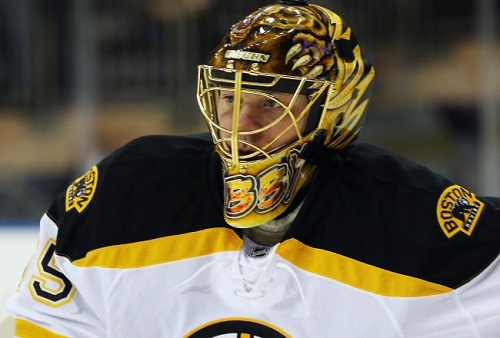 Anton Khudobin "Who-do-bin"
The ALWAYS smiling 26-year-old goaltender from Ust-Kamenogorsk (Kazakhstan) was drafted 206th overall by the Minnesota Wild in the 2004 NHL Entry Draft. Since then, Anton Khudobin has played in a variety of leagues in Canada, Russia, and the United States. His most current undertaking has been playing wingman for Tuukka Rask for the Boston Bruins. Khudobin and Rask have quickly become one of the best goaltending tandems in the NHL and have led the B's to one of the franchise's most successful starts in history. They currently sit with an 8-1-1 record.
February 10, 2013
It was only his second game playing for the Bruins this season, but Anton Khudobin continued his winning streak with a 3-1 win over the Buffalo Sabres.
While he may have only faced 26 shots, it was a solid showing for the backup goaltender. Head coach Claude Julien was pleased with his overall performance.
"He was good. There was no doubt," Julien said. "Although they maybe didn't have a ton of chances, (Buffalo) they had some quality chances and he stood tall."
Khudobin's other win this season was a 5-3 victory over Carolina. He is now 2-0-0 with a .931 save percentage and a 2.00 goals against average in two starts this season. Both victories have been on the road.
"He's played well," Julien said. "He looks really comfortable in net for us. I don't know if he feels comfortable with the way the guys are playing in front of him, but he certainly looks comfortable."
The striking statistics he's been posting, along with the confidence that he's been showing in net may have something to do with his experience playing overseas during the lockout.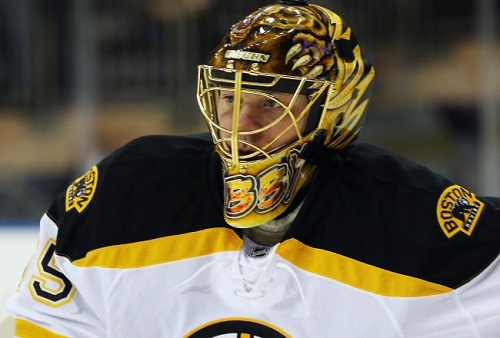 Khudobin was the starting goaltender for Atlant Moscow Oblast in the KHL in the months leading up to the NHL season. While he does admit he has benefited greatly by staying in game-form, he has noticed some drastic changes between the two leagues.
Here's what he shared with me after the game:
You played 26 games for Atlant in the KHL. How would you compare the level of play in the KHL and NHL?
First off, it's a completely different style of hockey. Very few teams here play under a system. I don't know why it hasn't been brought here. It's always worked- for any team. In a system, every player is responsibility for his own role. This brings success always and anywhere.
Secondly, the style in the KHL involves a lot of passing and a lot of puck movement to get into the offensive zone. In the NHL it's simple: throw the puck into the zone, chase after it, and then the battle for the puck begins.
…
This is where things got really interesting and Zdeno Chara decided he wanted to join our conversation and began practicing his Russian skills causing everyone around us to break out into laughter.
One of my favorite lines from Chara was "Он очень хорошо играл." This means "He played very well." Chara also played in the KHL during the lockout for HC Lev Praha. Khudobin laughed and pointed out that his current teammate hit the crossbar a few times against him overseas, but never scored on him.
…
Your contract is ending in Boston this summer, and you said in an interview that you very well may end up in the KHL. What are your thoughts now?
Of course we (he and his agent) are looking at all options. I'm not getting any younger, so I would obviously like a more long-term contract. If it works out that they offer me a contract with more years in the KHL, why not? I'm always open for anything.
FINAL
Bruins 3-1 Sabres
Goal Scorers
BOS: Marchand (07:10-2nd), Bergeron (PPG 07:52-3rd), Lucic (ENG 19:11-3rd)
BUF: Ennis (18:01 -2nd)