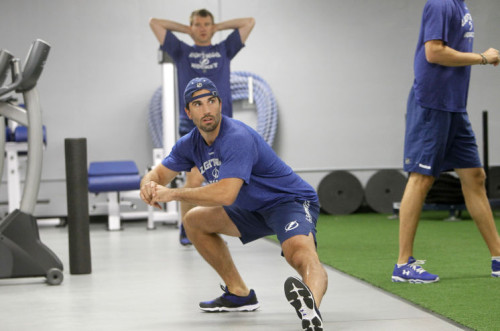 Tampa Bay Lightning coach Jon Cooper seemed to choose his words very carefully when talking Saturday about defenseman Jason Garrison's "lower-body" injury. From what I can surmise, it sounds like Garrison, one of four Tampa Bay defensemen who averages more than 20 minutes of ice time per game, could be out for an extended period of time.
Here's what he said about Garrison before he missed Saturday's 4-2 loss to the Los Angeles Kings:
"I don't think it's extremely long term."
He also called Garrison "questionable" for Sunday,* but that seems like an odd use of the word "extremely". It seems like a casual, reassuring way of saying that Garrison is going to be out for a long time, but not that long.
*Garrison missed Sunday's 5-3 victory over the Anaheim Ducks.
This would be very bad news for the Lightning. They are already struggling with blue line depth due to injuries to Radko Gudas and Matt Carle, who are both still out indefinitely. Those guys account for three of Tampa Bay's top six defenseman.
The lineup Cooper sent out on Saturday and Sunday included usual starters Victor Hedman, Anton Stralman and Andrej Sustr along with the young crew of Mark Barberio, Luke Witkowski and Nikita Nesterov.
Since the current squad is playing passable defense and backed by the often impenetrable Ben Bishop, I would expect plenty of patience before general manager Steve Yzerman makes a move. The trade deadline isn't until March 2, and I don't see Yzerman forcing moves and upsetting the structure he has created in the organization.
Don't expect anything to happen soon, but keep an eye on the Tampa Bay blue line situation going forward.
What does everybody else think? Should the Bolts make a move for a defenseman?
Taylor Gaines can be reached at TGaines@hookedonhockey.com or on Twitter @GainesTaylor.
Love Reading About Hockey?

Subscribe to keep up-to-date with the latest and most interesting hockey news!
| | |
| --- | --- |
| | We hate spam just as much as you |