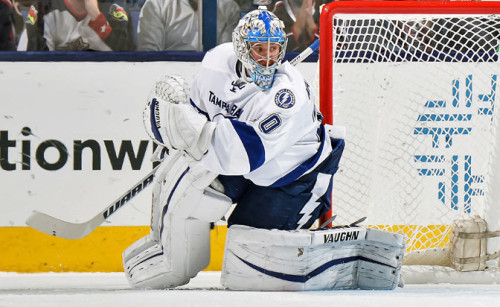 Tampa Bay Lightning fans have had so little to complain about this season that a major point of contention among them has come from an unlikely source: The Adventures of Evgeni Nabokov.
I saw it on Twitter and Facebook fan groups.
In reality, particularly the one where the Lightning sent Nabokov packing (and likely to his retirement), there shouldn't have been much of a debate.
Nabokov just was not a good goaltender anymore. He played very well for a long time with the San Jose Sharks and had a nice run with the New York Islanders, but his peak playing days were in the past before he put on a Tampa Bay sweater.
After struggling mightily with the Bolts, compiling an .882 save percentage in 11 games, it was clear Nabokov was done.
But the crux of the debate among fans had nothing to with Evgeni Nabokov, really. It had more to do with denial than anything else. In experiencing consistent, smart ownership and watching a smart man like Steve Yzerman rebuild the team into youthful, talented juggernaut, people began to doubt that he could make mistakes.
Whenever a questionable Lightning transaction pops up on the news wire, check the Facebook groups. They are usually filled with things like this:*
"I've learned not to question yzerman"
"The magician acted. Yzerman will prove in the playoffs giving rest and injuries time to heal"
*Actual Facebook posts on a Lightning fan page
Hell, I've fallen victim to this. But the fact of the matter is that even the best general managers make mistakes. And in cutting Evgeni Nabokov, Yzerman acknowledged his biggest one in what has been a largely successful season.
This may seem inconsequential, but this is an important moment for Yzerman as a general manager. He's spent much of his tenure rebuilding and retooling the Lightning roster to stock it full of young talent and a smart coaching staff. And even with the Lightning now contending, he isn't getting full of himself.
Even with plenty of rope to really let his mistakes play out, he pulled the trigger and fixed one. And this, Lightning fans, is a very good sign.
What does everybody else think?
Taylor Gaines can be reached at TGaines@hookedonhockey.com or on Twitter @GainesTaylor.
Love Reading About Hockey?

Subscribe to keep up-to-date with the latest and most interesting hockey news!
| | |
| --- | --- |
| | We hate spam just as much as you |