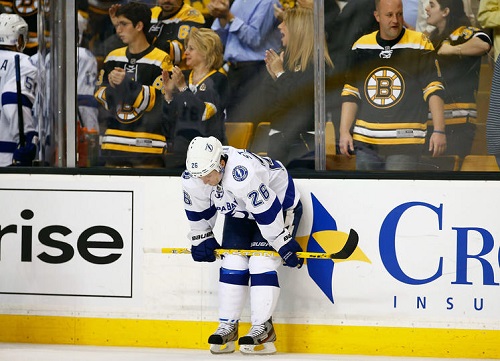 The Tampa Bay Lightning allowed four shorthanded goals during the 2012-2013 lockout-shortened season. They reached half of that total during Thursday night's season-opening 3-1 loss to the defending Eastern Conference-champion Boston Bruins.
That's right, the Lightning are on pace to allow 164 shorthanded goals this season.
Seriously, though, head coach Jon Cooper has his work cut out for him with his young squad. The team that took the ice Thursday night had an average age of 26.42 (that number goes down to 25.29 if you take out Martin St. Louis [38] and Eric Brewer [34]).
And their youth showed in the loss. Mark Barberio made an ill-advised pass midway through the first period that led to a breakaway and eventual shorthanded penalty shot goal for Chris Kelly (1). Radko Gudas, Tyler Johnson, Ondrej Palat, Andrej Sustr, Richard Panik and Victor Hedman — all 23 years old or younger — combined for a –8 on the night.
But, man oh man, that penalty unit.
The Lightning power play had two separate five-on-three chances that each began with nearly a full two minutes on the clock. And Boston's first goal came during a one-man Lightning advantage midway through the first, thanks to the aforementioned Barberio blunder.
"Five-on-three, that's usually a goal for us, automatic," Steven Stamkos said after the game.
Tampa Bay wound up going 0-for-5 on power plays on the night. And a Ryan Malone penalty late in the third-period's five-on-three chance led to a second shorthanded Boston goal from Patrice Bergeron (1).
"Not in a million years did I think it was our power play that would let us down," St. Louis said.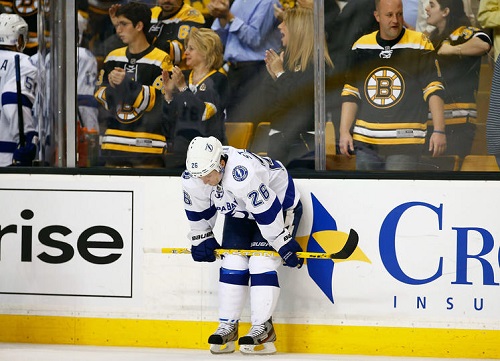 This is probably a good time to point out that, yes, Boston is a good team. They made it to the Stanley Cup Final last season and have one of the deepest depth charts in the league. They have a stud 26-year-old goaltender whom they just locked up to an eight-year contract in the offseason. They had the fourth-best penalty kill (87.1 percent) last season. And it's never easy winning on the road, particularly in a team's home opener.
But you have to take advantage of five-on-three power plays and allowing shorthanded goals is a big-time no-no, especially two in one game. And when you wind up losing by two goals, well, that stings even more.
"I saw 57 minutes of good hockey and three minutes of a tough power play," Cooper said. "The power play can be fixed. It's just too bad that was the difference."
So, with that, the Lightning fall to 0-1 on their season-opening three-game road trip. They'll travel to Chicago and Buffalo before it's over, and winning one of two is a must. They can't afford to come back to Tampa on Oct. 10 with three straight losses hanging over their head.
It's never easy to dig yourself out of a hole in the standings, and in the new-look eight-team Atlantic Division, it will be even tougher. It has to hurt to think they let one get away against a really good team on Thursday night.
Notes:
The Bolts outshot the Bruins 33-25, including a 15-6 advantage in the first period.
Tampa Bay had 20 hits to Boston's 14.
Valtteri Filppula picked up his first goal as a member of the Lightning on Thursday night on a beautiful assist from Eric Brewer. Brewer maneuvered around a diving Gregory Campbell before dealing the puck cross-crease to Filppula for an easy goal on a two-on-one break. "Brewer looked like Bobby Orr on that play," Cooper said.
Cooper acknowledged after the game that although Anders Lindback got the start in net for the Lightning, he is not the front-runner as of right now. Then again, neither is Ben Bishop. Cooper called the situation "day-to-day," saying he expects someone to rise to the top. He did announce the starter for Saturday's game against Chicago.
Tampa Bay has dropped 10 straight games in Boston, where they are 4-30-3 with six ties in franchise history.
Game Two is Saturday night for the Lightning, at the United Center in Chicago, where they will take on the Blackhawks. The game starts at 8 p.m. ET.