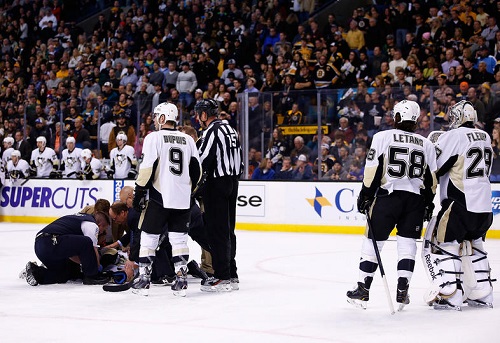 Devastated by injury—particularly on the blue line, the Pittsburgh Penguins have done a patchwork effort to fill their roster.
Relying massively on their AHL affiliate, the Wilkes-Barre/Scranton Penguins, the Penguins have found grit, determination and a surprising amount of skill.
Let's take a look at the Penguins lost to injury this season (via cbssports.com):
Jayson Megna, RW — Lower Body (12/19)
Deryk Engelland, D — Suspension (12/18)
Kris Letang, D — Upper Body (12/16)
Evgeni Malkin, C — Leg (12/14)
Brooks Orpik, D — Concussion (12/13)
Andrew Ebbett, C — Ankle (12/06)
Paul Martin, D — Leg (11/27)
Beau Bennett, RW — Wrist (11/26)
Tanner Glass, LW — Hand (11/26)
Rob Scuderi, D — Ankle (10/28)
Tomas Vokoun, G — Pelvis (9/30)
Wow. That's a lot of injuries.
The top four defensemen—Letang, Orpik, Scuderi, and Martin—are out, as well as d-man Deryk Engelland who was recently suspended.
Only Matt Niskanen and 19-year-old rookie Olli Maatta remain from the defensive corps that started the season.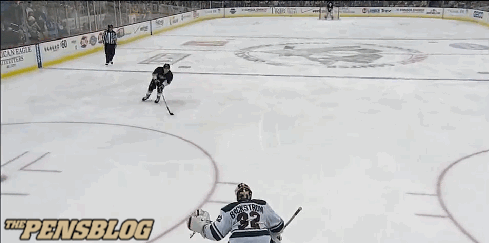 On top of that, winger James Neal just returned from a five-game suspension for kneeing Bruins forward Brad Marchand in the head.
The roster has certainly shifted around for Pittsburgh. And with that many injuries, there comes that many new faces. Let's meet them:
---
Chris Conner, RW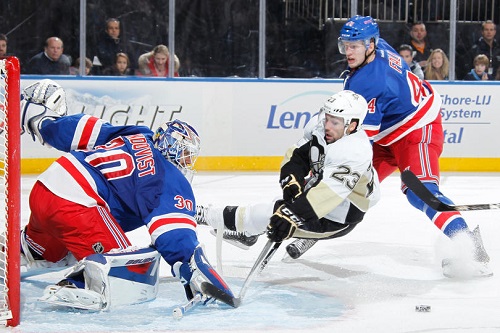 Diminutive, but strong on his skates, Chris Conner stands just 5'8″ tall and has bounced around the NHL minor leagues for years. Conner is in his second stint with Pittsburgh—playing also for Dallas, Phoenix and Detroit since joining the league in 2005.
As mentioned by NBC's Pierre McGuire on a recent broadcast, Conner has never been traded, but still find a way onto NHL clubs by virtue of his hard work. Which is evident each and every night.
He's not afraid to go into the tough places or take on a defender nearly twice his size. Conner's engine reminds you of Tampa Bay's Martin St. Loius and he has certainly been a spark wherever head coach Dan Bylsma has placed him this season.
Stats: 14 games played, three goals, one assist and owns a plus-2 rating.
---
Brian Gibbons, C

Another smaller forward, Gibbons played for two National Championship teams during his years with Boston College. Known for his speed, Gibbons is a hard working grinder with a nice shot.
Stats: Five games played, one goal, one assist and a plus-2 rating.
---
Jayson Megna, C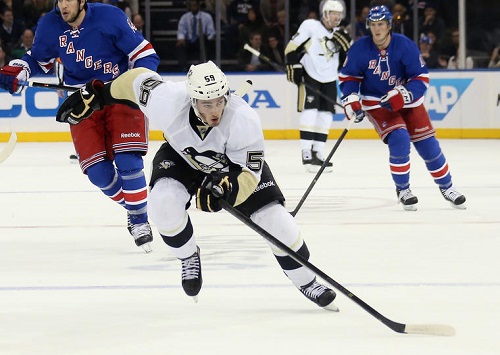 Megna was quickly turning into a crowd favorite before injuring his knee against Toronto on Dec. 16.
Megna showed some skill playing alongside Evgeni Malkin during Neal's suspension and early-season injury. He notched six points and looked like he could make a case to stay on the team's roster for the long haul. Unfortunately, Megna is going to be out at least six weeks with that knee injury.
Stats: 15 games played, four goals, two assists and plus-3 rating.
---
Zach Sill, C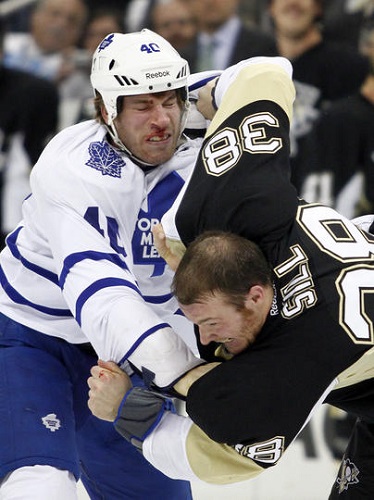 Sill has been a bruiser since being called up to the NHL. He seems to have the making of a two-way forward with above average defensive skills.
The production might not be there for Sill, but he's doing the little things—digging into the corners against the boards, checking and forechecking—that helps a team win.
Stats: 10 games played, zero goals, zero assists and a minus-2 rating.
---
Robert Bortuzzo, D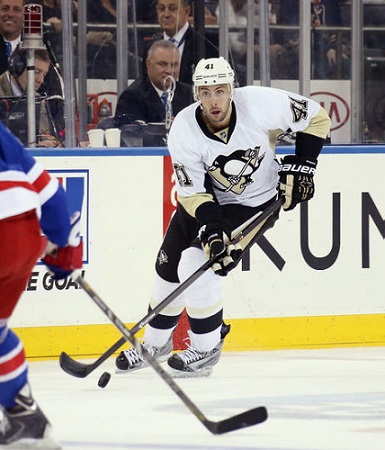 Bortuzzo isn't necessarily a new face for Pittsburgh, but he has seen a rise in his playing time due to the devastation of the Penguins defense.
A lumbering 6'4″, Bortuzzo uses his long reach to lift opposing players sticks and get in the way of shots. He's also not afraid to get dirty and the playing time he's getting might be just the thing he needs to remove the "spot-starter" stigma surrounding his name.
Stats: 21 games played, zero goals, one assist and a minus-1 rating.
---
Simon Despres, D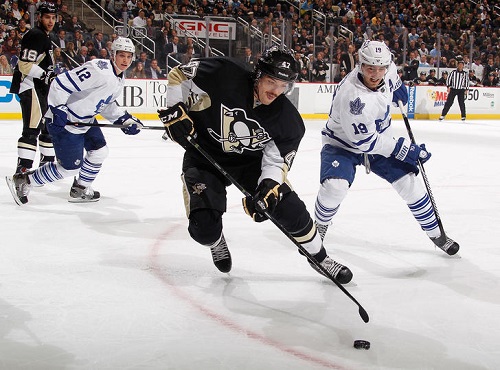 Many Penguins fans were surprised when Despres started the year for the WBS Penguins. Many thought he was a surefire lock for the defensive rotation after two impressive auditions for the Penguins the past two seasons.
Taken 30th overall in the 2009 draft, Despres has been the defenseman in waiting for the Penguins. And he certainly looks like he'll be a great player for them for years to come.
The stint in the minors this season helped Despres play huge minutes and hone his defensive game—which was a needed facet to his already offensively potent game.
Despres and Maatta look to give the Penguins a solid defensive pairing in the near future.
Stats: 12 games played, zero goals, three assists and a plus-4 rating.
---
Brian Dumoulin, D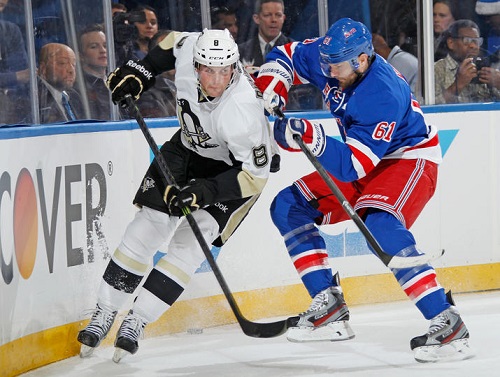 Another Boston College product, Dumoulin came to Pittsburgh with Brandon Sutter in the trade for Jordan Staal with Carolina last offseason.
Dumoulin's game is predicated offensively and in just his fourth game in the NHL, he's already seeing time on the first powerplay unit—one that ranks first in the NHL, no less.
Stats: Four games played, zero goals, one assist and a neutral rating.
---
Philip Samauelsson, D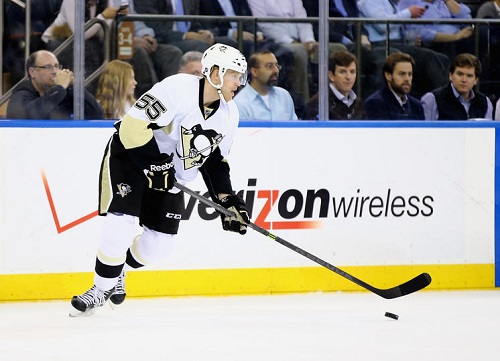 Son of former Penguins defenseman, and current New York Rangers assistant coach, Ulf Samuelsson, Philip looks like he might just be the player his father once was.
Playing in just three games so far, Samuelsson's sample size is still fledgeling, but he does look strong on his skates and has made few mistakes.
Another promising young defenseman in a seemingly unexhausting defensive stable.
---
Despite the injuries the Penguins have won six in a row and haven't shown any signs of depreciation. Bylsma might be on his way to another Coach of the Year award along with the honor of coaching the USA Olympic Team this winter.
The future is bright for the Penguins to be sure. General manager Ray Shero and his staff have done wonders in building this roster around Sidney Crosby to be serious contenders for many years to come.
All stats and player bios can be found on the official Pittsburgh Penguins website