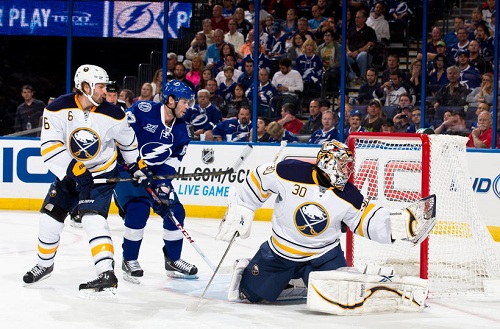 It was Miller time at the sold-out Tampa Bay Times Forum Tuesday night.
After scoring just over a minute into the game, Buffalo Sabres goaltender Ryan Miller shut down the Tampa Bay Lightning, not allowing a shot for the last 58:36 of action.
Miller made 30 saves on 31 shots, preserving a 2-1 victory for Buffalo and snapping a four-game losing streak.
The Lightning's early goal came courtesy of the National Hockey League goal leader, center Steven Stamkos who picked up forward Teddy Purcell's rebound and beat Miller over his right shoulder.
The goal was Stamkos' 14th, giving him a one-goal advantage over New York Islanders center John Tavares. Stamkos also leads the league with 30 points, two ahead of Pittsburgh Penguins center Sidney Crosby.
Buffalo tied it up halfway through the first when center Cody Hodgson (8) scored by centering the puck from behind the net and deflecting it off sprawling Lightning goalie Mathieu Garon, who intentionally directed the puck into the net.
The Sabres outplayed the Lightning (9-9-1) for the last half of the period, who failed to score on two consecutive power plays.
Each team had only five shots apiece after the first period.
In the second, the game remained tied despite three straight Lightning power plays in the first half of the period, including a five-on-three that lasted over 40 seconds.
Tampa Bay had several good chances, especially by Stamkos, who had eight shots in the game.
The Lightning failed to score on all six power play attempts in the game.
Buffalo (7-12-1) wasted no time scoring in the third, with Tyler Myers (3) scoring just 52 seconds into the period following a Lighting defensive zone turnover. A shot that missed the net caught Garon out of position, who failed to stop Myers' one-timer from forward Thomas Vanek.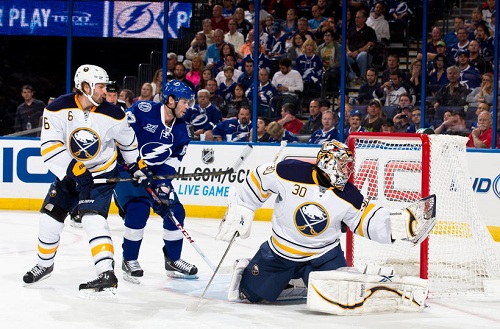 The Bolts threw everything they could at Miller in the final minutes but couldn't get one by him, losing to the lowly Sabres.
Miller may have been brilliant but the Lightning power play attack was not aggressive enough for long periods of the game.
"If you can't see it, you can't stop it. So we need to create more havoc in front," defenseman Matt Carle told Sun Sports during the second intermission.
"[We have] to try not to get too cute, keep things simple and take advantage of the opportunities that are there."
Also, defensive zone turnovers will kill you every time. They have to stop.
The Lightning will now head to New York for their final game of February. Tampa Bay will take on the New York Rangers for the third time this season (0-2) on Thursday night starting at 7 p.m. ET.
Buffalo will stay in the Sunshine State, where they will take on the Florida Panthers on Thursday night. The puck drops at 7:30 p.m. ET.