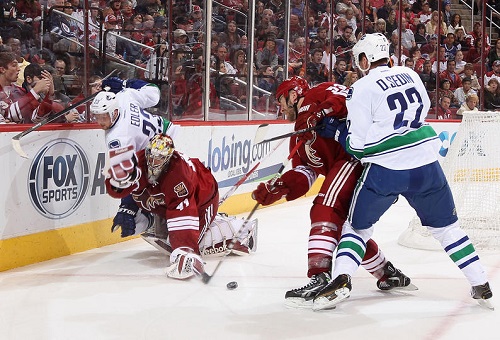 If the season couldn't get any worse for the Vancouver Canucks, it just got a little more terrible. The Vancouver Canucks lost winger David Booth for the rest of the season and defenceman Alex Edler to suspension Friday.
Booth underwent surgery Friday after suffering a severe ankle sprain last Saturday against Detroit on Millionaires night. Booth has been out since Saturday and has missed the last three games against Minnesota, St. Louis and Phoenix. There is some hope though within the organization that he could return to the line up in the playoffs if the Canucks make it. General Manager Mike Gillis says that "Hopefully, (the surgery) will accelerate the process some measure and then he'll have to wait and rehab likes anyone else."
The Setback continues for David Booth who returned earlier in the season from a Groin injury suffered in Training Camp. Booth has one goal this season which was an empty netter against Nashville.
The Canucks called up forward Andrew Gordon from Chicago of the AHL for the game against Phoenix and face the possibility of calling up more forwards if injuries keep coming.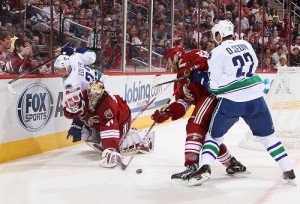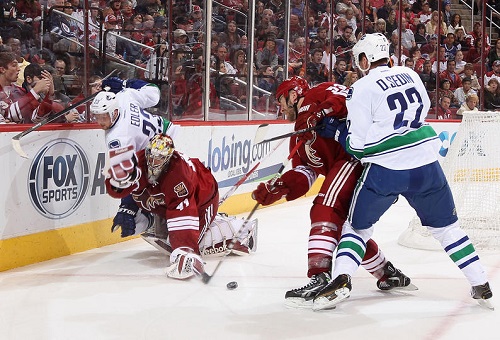 Edler meanwhile was suspended two games for charging Coyotes goaltender Mike Smith during the Canucks' 2-1 win Thursday in Phoenix.
Smith, who came out of his crease to play the puck got blindsided by Edler, and eventually didn't return in the third period. Edler, who was gave a five-minute major for the penalty will forfeit 35K of his own salary under of the new CBA.
Canucks visit Western Rival Los Angeles Kings in a matinee today at 1 PM PST and will hope to continue their small winning streak they have.