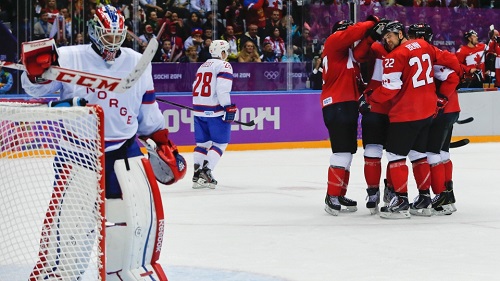 When Team Norway drew Canada as their first opponent in Sochi, it couldn't have been a very confident moment in the locker room. Canada, being the most decorated Olympic hockey team of all time certainly poses an intimidating challenge for any team, but Norway, having exactly one NHler is another story. Needless to say the overwhelming expectation going into this game was that Canada would completely run over Norway. But anything can happen in hockey right?
Following the trend of other games early in the group stage this game had a very tight first period. Norwegian goaltender Lars Haugen was tested early and often but stood strong, and was not phased by the immense skill of every player shooting the puck at him. It wasn't until the second period that the scoring opened with Shea Weber and Jamie Benn put the Canadians up 2-0, although it could have been much more than that seeing as Norway was outshot 14-2. Early in the third the Norwegians brought themselves back into the game on a tally by Patrick Thoresen. For about one minute it looked like Norway had a chance to upset the heavily favored Canadians. But unfortunately for Norwegian fans Drew Doughty netted a "dagger" goal to deflate the team's hopes.
The game ended at 3-1 with Canada outshooting Norway 38-20. Although it wasn't exactly a nail biter, it was a much better game than anyone was expecting and for that I commend the Norwegian's. Norway is back in action today against a tough Finnish team, Canada also plays today against Austria.
One can only help but wonder that if this is the showing Canada has against a group of unproven European players, how will they fare against tougher teams like Sweden, USA, and Finland. There is a significant amount of work to be done in order to stand up to those teams with much more skill and experience