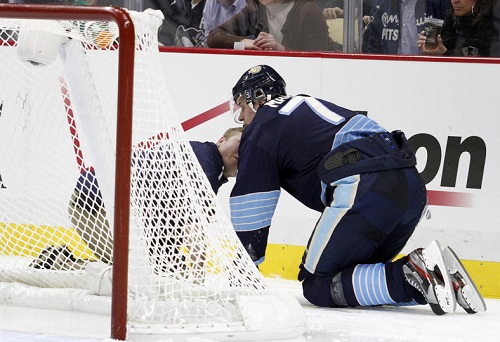 In Pittsburgh, Friday was a bittersweet day for hockey. Despite the Penguins' 3-1 besting over the visiting Florida Panthers, the privy status of Russian forward Evgeni Malkin is at the crux of post-game conversations.
Malkin, reigning league MVP and Art Ross Trophy winner, took a poignant spill into the end boards in the attacking zone. Replays paint an unfortunate image: Malkin nimbly breaking into the offensive zone only to be shoved by Panthers defensemen Erik Gudbranson behind the net. Losing his footing, the famed Penguin slammed awkwardly into the end boards. Left wing James Neal took exception to the hit, causing tensions to rise on the ice.
To the dismay of teammates and 18,655 fans in attendance, Malkin's back absorbed the brunt of the impact and his head swiftly snapped forward. Penguins' athletic trainer Chris Stewart fleetly tended to the motionless second-line center. He appeared to be in discomfort and voluntarily removed himself from the game, making a beeline for the locker room. Malkin did not return. Gudbranson was not penalized for the play.
In his post-game comments, head coach Dan Blysma offered few assurances.
"In terms of an injury update on Evgeni Malkin, he went into the boards hard there behind the net," he said. "He left on his own accord and is getting further evaluated this evening. We'll know more (Saturday). But again, he left on his own accord and skated off."
Rookie Beau Bennett, the club's first round draft pick in 2010, also commented on the disastrous hit.
"I didn't even see it … but I did hear it," he stated. "You never want to see it, especially with a guy like him. But hopefully it's not too bad."
As a consequence, the Penguins strategically and instantaneously accounted for Malkin's absence through shifting of lines. Most notably, blue liner Kris Letang assumed Malkin's responsibilities on the club's top power play unit. Letang's instincts are akin to those of Malkin's—effectively seize shooting opportunities—making him a suitable replacement.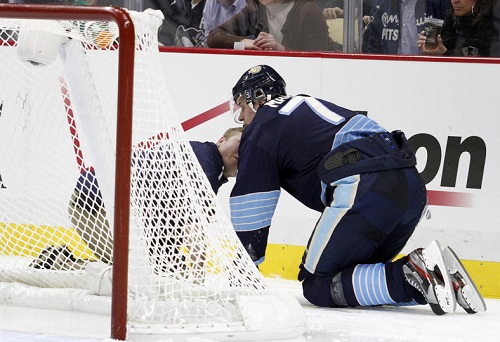 Despite its adverse effects, Gudbranson's hit was not deplorable, intentional, or peculiar by any means. Ultimately, it was a typical play with an unforeseen and unfortunate outcome. Gudbranson played the body aggressively in an effort to prevent Malkin's shot from augmenting a Penguins lead. Supplementary discipline seems unlikely.
Malkin added to his point tally midway through the second period, assisting a tip-in by Saskatchewan native Chris Kunitz. Currently, Malkin has 21 points (4G, 17A) in 18 games played. The power play unit proved effective yet again, registering one goal in four opportunities. With an assist, Neal currently has twelve points on the power play. The Penguins outshot the Panthers 40-23. Penguins star Sidney Crosby was unable to register any points in the contest.
The Penguins will return to action Sunday as the club hosts the struggling Tampa Bay Lightning—a matchup that often sees Malkin light the lamp.