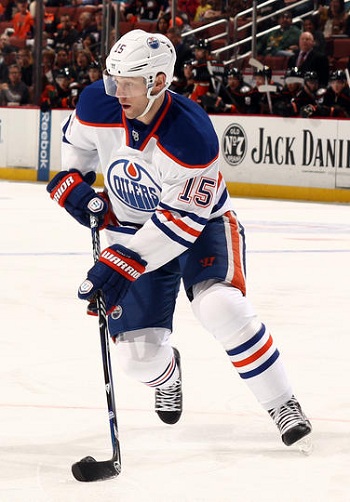 The Edmonton Oilers faced the Anaheim Ducks in an away game at Honda Center in Orange County, California, and Anaheim triumphed 2-1.
In the interest of full disclosure, I will confess that it physically pained me to not be able to title this article 'Oilers Break Losing Streak!' The Oilers haven't lost three straight games in regulation all year, but unfortunately there's a first time for everything.
Edmonton started the first period strong, and within the first few minutes outshot Anaheim 6 to 0. Though Anaheim have been somewhat slow starters and found ways to win consistently this year, the Oilers were doing a good job staying in control.
Anaheim played the Los Angeles Kings the night before. Back to back games are often tough, as the Oilers demonstrated when they got shutout by the Canucks immediately after their explosive win against the Flames.
The Oilers got a promising power-play partway into the period. They're typically fairly good at converting power-plays – their stat is second in the league – but Eberle got a minor penalty for interference, cutting their power-play to a comical two seconds in length. Not much time to make anything happen in two seconds.
About halfway into the period, the Oilers were outshooting the Ducks 9 to 0, but they still hadn't managed to sink anything, as opposed to previous games where their first two or three shots have resulted in goals – sometimes consecutive goals.
It was Anaheim that scored first, with a goal at 17:21 by Radek Dvorak. While it would have been preferable for the Oilers to get the first goal in this crucial game for them, Edmonton has successfully rallied in previous games, so all hope wasn't lost.
In the second period Oilers goalie Devan Dubnyk made some great saves, but with about 12 minutes to go in the second period Edmonton still hadn't tied it up, and they were now trailing 12 shots on goal to Anaheim's 23. The second period remained scoreless for both teams, and Anaheim kept its 1-0 lead.
The Oilers, desperate for a win, came into the third period strong and Nick Schultz scored a goal for Edmonton about 1 minute into the period, successfully tying up the game. It was Schultz' first goal in his 59th game with the Oilers. There could be no better payback for the man who accidentally got booed because Anaheim fans saw the name Schultz on his jersey and mistook him for defenseman Justin Schultz, who was being booed throughout the game, as ill feelings lingered from his decision not to sign with the Ducks and to join the Oilers as a free agent back in 2008.
Schultz' goal seemed to give the Oilers some much needed energy, and young players Hall, Nugent-Hopkins and Eberle were all receiving double shifts as the Oilers tried to take the lead.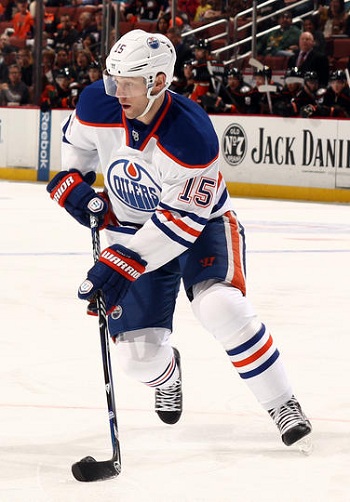 Despite Edmonton's efforts, Anaheim's Dvorak sunk another goal around the 8 minute mark as Dubnyk struggled to control a rebound.
The Oilers turned up the pressure for the remainder of the game, and Krueger yanked Dubnyk in favor of a extra man with one minute to go, but unfortunately the Oilers just weren't able to get another one between the pipes.
Taylor Hall, who as always showed admirable energy and hustle this game, particularly in the third period, commented that "it looks really hard from here on in" and acknowledged that the Oilers are in a tough spot.
"Three games ago we were right there, and now we're a ways back. It's going to take a lot for our group, and we're going to have to stay motivated. You never know what can happen, but definitely tonight was one we had to win."
In order to clinch a playoff spot, the Oilers would need to completely dominate their next 9 games. Luckily, 7 of 9 of their next games are home games, so hopefully home court advantage will encourage them a little bit. Oilers fans, please don your blue and orange and yell encouragements until your voices are raw. You heard Hall – they need to stay motivated. I'm not sure they'll be able to hear me from Montreal, but I'll give it my best shot too.
They can totally do it… right?( Just humor me and agree.)
The Oilers will face the Phoenix Coyotes on Wednesday, April 10.