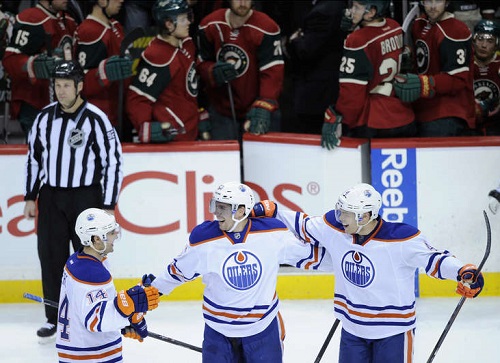 Although they may not be Stanley Cup contenders this season, one cannot argue with the recent play of the Edmonton Oilers.
On Tuesday night the Oilers battled back to defeat the Minnesota Wild 4-3 in a shootout, and have now gone 8-3-2 in their last 13 games. Taylor Hall secured the win when he scored in the fourth round of the shootout.
"It's been a while since I've taken a shootout shot," Hall said. "Ebs told me he thought five hole would be there." But the Oilers got off to a shaky start, and looked to be back to their old habits early on.
Five minutes into the opening frame the Oilers were caught standing still, and were quickly down a 3-0 hole. Zach Parise notched his 12th power play goal; Jarred Spurgeon wired another tally from the point, and Jason Pominville potted his own rebound following an Oilers neutral zone collapse.
But the Wild were never able to run away with the game.
The Oilers got one back when Jeff Petry's centering pass deflected off a Wild skate in the slot, and then the Oilers killed off a 5 on3 power play in the second period.
Edmonton made it a one goal game with 8:54 left to play in regulation when captain Andrew Ference centered a pass to David Perron, who connected to register his team-leading 24th goal of the season.
A few minutes later Ference took a shot from the red line, and Jordan Eberle tied the game by netting the rebound over top of Darcy Kuemper's glove.
Newly acquired goaltender Viktor Fasth registered his first victory wearing an Oilers uniform, and rookie defenseman Oscar Klefbom had a strong NHL debut in the team's road win.
"It's a whole new level when you play against these [really] skilled guys," said Klefbom. Klefbom, 20, was drafted 19 overall in the 2011 NHL draft, and recorded his first NHL point by adding the second helper on Eberle's game tying goal.
"We just wish we were better," Hall said before the game. Edmonton sits last in the western conference, but Hall and the rest of this Oilers team are showing signs that they are tired of losing hockey games.
Oilers head coach Dallas Eakins has similar thoughts. "Anytime you're getting points in this league it's an encouraging sign."
The Oilers are back in action on Thursday when they visit the St. Louis Blues.