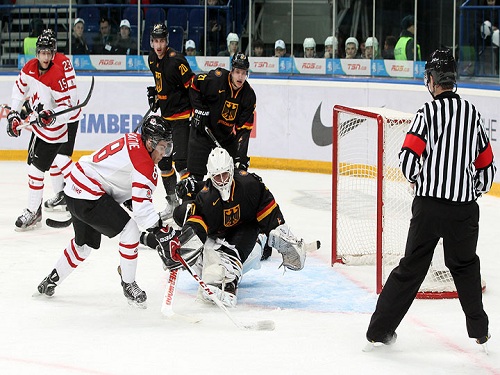 It was the Ryan Nugent-Hopkins show for Canada on Wednesday. Team Germany just had front-row seats. Nugent-Hopkins, the 19-year-old phenom who was selected first overall by the Edmonton Oilers in the 2011 Draft, led Canada to a 9-3 victory over Germany with five points (1 goal, 4 assists).
The outcome was never really in doubt for the tournament favorite Canadian team, facing off against a German squad that was relegated from the World Juniors a year ago before regaining eligibility this year.
Canada jumped to an early 2-0 lead after Xavier Oullet had a pass deflected in off of a German defender at 3:01 and Nugent-Hopkins scored from a Jonathan Huberdeau assist just past the halfway mark of the first period.
One of the few German bright spots came on the power play with under a minute to go in the first, when Leonhard Pfoderl set up Tobias Rieder for a beautiful one-time goal that exposed the Canadian defense, if only for a moment, cutting the score to 2-1.
Canada then quickly rattled off four straight goals in the second, taking a 6-1 lead with about five minutes to go in the period.
"I think we played really well the first period," Rieder said. "But the second and third period, you just saw that Team Canada is a better hockey team."
Germany did not quit however, managing to score back-to-back goals at 16:22 and 18:15 off of sloppy defensive play and some lazy passing by Canada. Pfoderl scored his second goal of the game before Nickolas Latta put one home unassisted thanks to a terrible pass out of a face-off by Mark McNeill.
After Germany managed to cut the deficit to 6-3, Mark Schiefele's goal with just one second to go in the second period sucked every remaining ounce of life out of them, giving Canada a 7-3 lead. Canada tacked on another couple of goals but the game was well in hand by the start of the last period.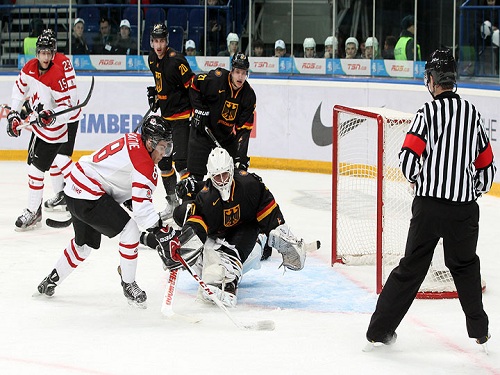 All in all, Rieder said, the Germans were just satisfied that they had managed to score three goals against an incredibly talented Canadian team. 19-year-old goaltender Elmar Trautmann performed well given the circumstances as he saved 37 of 46 shots. Germany was out-shot 46-28.
Germany is next in action at 9 AM Eastern Time against Team USA Thursday morning as Group B action continues. Be sure to stay tuned to HOHM for the latest and greatest from WJC 2013!