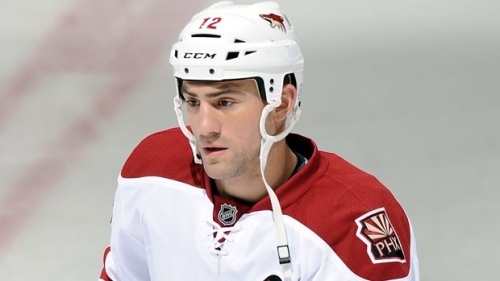 The Cardiff Devils have enjoyed a steady start to their 2014/15 EIHL season, but with times already looking up, things got drastically better for the fans of the South Wales side in a shock signing.
After going without a contract as the NHL season started, one player was left without a team until this evening. Paul "BizNasty" Bissonnette signed a deal with the Cardiff Devils, the team he made a brief appearance for during the 2012/13 NHL Lockout.
We usually wouldn't announce something this big on Twitter, but it seems fitting… Welcome back to Cardiff @BizNasty2point0 – over to you..

— Cardiff Devils (@cardiffdevils) October 24, 2014
In 11 games for the Devils during his brief time in the UK, Bissonnette found the net 6 times and added 15 assists, making him one of the best lockout performers in terms of points-per-game, and his experience will only add to an already great atmosphere inside the Devils locker room.
Fans were obviously overjoyed with the signing, with many still in awe of the performances of Bissonnette during his previous spell in South Wales.
Terms of the contract haven't been announced yet, but with defenseman Carl Hudson set to miss a month of action with a hand injury, Bissonnette will fit in on the defensive duties while he's shown through his career he can also play as a forward.
While his point production in the NHL hasn't been anything special, the type of character he is and the willingness he shows to do what it takes for the team makes him a valuable addition to any locker room, and as previously shown in the EIHL he has the skill set to become more than fourth-line tough guy like he was for the Phoenix Coyotes (now Arizona Coyotes) over the past few years, but he can become a game changer as the Devils look to press on and move higher and higher up the standings.
Devils defenseman Josh Batch took to twitter to voice his excitement on the return of Bissonnette
Looking forward to playing with my old d partner @BizNasty2point0 again. Someone has to look after the skill guys @cardiffdevils #nails

— 𝐉𝐨𝐬𝐡𝐮𝐚 𝐁𝐚𝐭𝐜𝐡 (@JoshBatch41) October 24, 2014
Steve King – One of the owners of the Devils has posted on the-inferno (devils fan website)

"What an exciting day for Devils hockey! As we've been saying, Cardiff is quickly becoming a destination that hockey players want to come to. To get a player of Paul's caliber is a reflection of that and it's also a reflection of our appreciation for the support that Devils fans have given us in our first year.

And to answer your questions, while there's always a chance that Biz could get an NHL contract, we hope that he stays with us for the entire year. Nobody will be dropped from the roster. Andrew and Franny will just have to manage the lineup if everyone is healthy."

Devils have tweeted three tweets

"@cardiffdevils: Our site has crashed with all the traffic – we are in the process of switching servers and we're doing that this week.. Story up soon

@cardiffdevils: In the meantime, here are the details – he will hopefully be in for Nottingham game on Nov 2nd, short term rolling deal, if he gets an NHL..

@cardiffdevils: …deal we will let him go.. He could be here two weeks, a month, all season but we took the risk because we wanted him back"