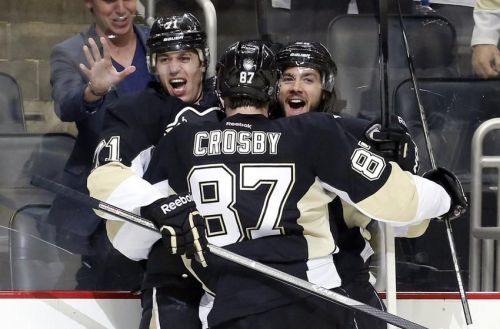 One week after the Pittsburgh Penguins won their last Stanley Cup, the iPhone 3GS was released. Apple labeled it "the fastest and most powerful iPhone yet."
Long gone is the iPhone 3GS, and long gone are most of the men that made the 2009 Stanley Cup a reality for the Penguins… and then some.
Dan Bylsma's final season as head coach of the Penguins is in the history books. King Shero has been dethroned. Matt Niskanen and Brooks Orpik play for the Washington Capitals. James Neal was spotted with an "A" on his Nashville Predators sweater. Kris Letang is financially equal to 2.416 Deryk Engellands.
For the first time in a long time, the Penguins have a fresh start. Head Coach Mike Johnston and Co. are looking to give the Pittsburgh Penguins a little extra kick. General Manager Jim Rutherford has given them the tools to do just that. Now it's just a matter of putting on the final touches before they hit the ice Wednesday evening against the Anaheim Ducks.
Why should you believe that the results will be any different? Why should you not be preparing another meltdown? Why should you even believe?
Sidney Crosby, Evgeni Malkin, and Kris Letang will lead.
Not only are these three the most talented on the team, but they are the Penguins to look to now. The days of just being on the stats sheets are done. It's time for the superstars to embrace their letters, their roles, and lead the Penguins each and every night. No more defeated faces. No more praying that a random trade deadline acquisition will bail you out. This is the big time. There is no "country club" curtain to hide behind anymore. If these three take the reigns, the Penguins will look a lot different by just taking their first regular season strides on the ice.
Brandon Sutter will rise (again).
The Penguins 2014 (unofficial) playoff MVP will carry his accomplishments into the regular season. He has already proved his brilliance in the preseaso. Prepare to be a witness well into the home stretch. Brandon Sutter has two years to prove that he's worth more money than he is right now. Keep in mind, he was able to show Rutherford a thirteen game highlight reel of why he was worth it this summer. He has an entire resume of two years to fill. Don't be surprised if it's overflowing by 2016. The "what if the Penguins signed Toews instead of Staal?" debates may finally be laid to rest.
Christian Ehrhoff will be the dark horse of 2014-2015.
2011-2012 Dark Horse Winner: James Neal
(2012-) 2013 Dark Horse Winner: Tomas Vokoun
2013-2014 Dark Horse Winner: Brandon Sutter
2014-2015 Dark Horse Winner: Christian Ehrhoff
Don't believe it?
Not once in that video was he playing alongside someone as talented as Kris Letang, either.
To quote myself:
"Ehrhoff is known for his wrist shot. Pull up almost any goal from his highlight real and it becomes very apparent very quickly. We're not talking about a wrist shot from the slot or just outside the dots. We're talking about powerhouse from the point. Fans should be very excited when (not if) Ehrhoff gets time on the power play. Any combination of his wrist shot and traffic in front of the net should net the Penguins a goal. Don't be surprised if Hornqvist and Ehrhoff get power play time together while they let the other unit make the fancy plays.

While he's no Kris Letang, Ehrhoff's skating is solid along with his reach. There is no need to question his defensive ability either. The best of Paul Martin and Matt Niskanen will shine in Christian Ehrhoff. Imagine that."
Yes. Imagine a Paul Martin/Matt Niskanen hybrid skating along side Kris Letang.
Marc-Andre Fleury will have an average season, and you'll be okay with it.
You were expecting a Vezina prophecy or a comeback prediction weren't you? Nope.
Fleury will play the same regular season game he always has. If he plays a little better since it's a contract year, then so be it. Fleury doesn't play do or die in the regular season as the team in front of him is usually doing a pretty good job. Year over year, expectations are set high for Fleury, and yet they are never addressed until Spring. For the umpteenth year in a row, don't expect anything different. We can speculate that Fleury will be under a microscope during the regular season. But unless there's a meltdown at the start, there will be no magnifying any issues until spring.
Mike Johnston & Co. will have a miraculous effect on this team.
Not just because of these:
Directly comparing this coaching staff to Herb Brooks would be outlandish hyperbole. But take a look at the Penguins latest "A Peak Inside." Brooks was known to distance himself from players and be more of an adversary. Again, I won't go to an extreme, but Mike Johnston & Co. seem to be the perfect balance between Herb (Rick Tocchet anyone?) and the former "country club." No more awkward situations under pressure. All business.
Enjoy it.
Don't blink. These may be the fastest, most powerful Penguins yet.
The Pittsburgh Penguins open their 2014-2015 campaign against the Anaheim Ducks, 7 p.m. EDT Thursday at Consol Energy Center.