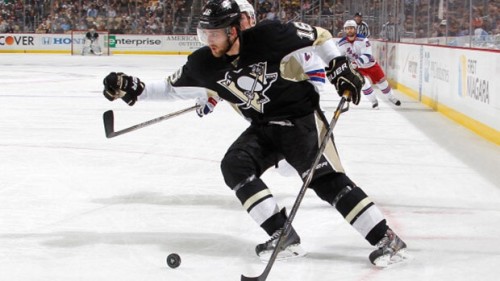 The Pittsburgh Penguins have re-signed Brandon Sutter to a two-year, $6.6 million contract clocking in at $3.3 million annually. Sutter was the team's last restricted free agent, and now the Penguins are almost ready to take to the ice in October.
Sutter, 25, had 13 goals and 26 points in 81 games last season, including career playoff highs with five goals, seven points, and a plus-7 rating. Sutter also led the Penguins with three shorthanded goals last year.
There was speculation that Sutter may have been headed to Edmonton in search of a larger team role, though he seems content to centre the Pens third line behind Sidney Crosby and Evgeni Malkin for the foreseeable future.
"It's nice to get it done… and over with," Sutter told the team website. "It's nice to get signed to a couple years, and I'm obviously returning to a team that has a chance to win. I'm excited to be back and glad I can go through the changes that have happened with the coaching staff and new players. I'm just excited to get back [to Pittsburgh] and back to work."
Sutter is the son of former player and coach Brent Sutter, and was selected 11th overall in the 2007 NHL Draft by the Carolina Hurricanes. On June 22, 2012, he was traded along with defenseman Brian Dumoulin and a first-round draft pick to the Pens in exchange for Jordan Staal. He has 77 goals and 152 points in 415 regular season games.
"I want to continue to become a better player. I hope to have an increased role," Sutter said. "I think I proved that I can play some significant minutes. I like the changes that have happened with the coaches and forwards. It's an exciting time."
Having only missed one game over the past four seasons, Sutter has proved to be a very durable presence down the middle. Although his possession numbers are not phenomenal by any means, this is likely due to his average line mates Joe Vitale, Tanner Glass, and Chuck Kobasew among others. Being a very top heavy club, the Pens lacked bottom six talent and Sutter was forced to accommodate, recording a lackluster 42.9 corsi percentage last season.
Fortunately since dropping the contract of James Neal, the pens have been able to flush out their bottom six. Next season, expect Sutter to produce higher numbers alongside Nick Spaling and Steve Downie, and continue to log over 15 minutes of ice time per game. Should he remain healthy, Sutter may be able to provide the Pens with a depth similar to Staal during the 2008-09 campaign.
Sutter has looked like a player with a bright future for much of his career, but has not been able to make that jump to the next level. This two-year deal will give him the chance to increase his player value in hopes of securing a larger salary in unrestricted free agency, or locking down a long-term deal with an elite club.
Sutter may be durable up the middle, and he may record decent offensive numbers in a bottom six role, but the bottom line is clear. Sutter still has a lot to prove, and this contract is more than a work agreement – the Penguins have provided him with an opportunity.