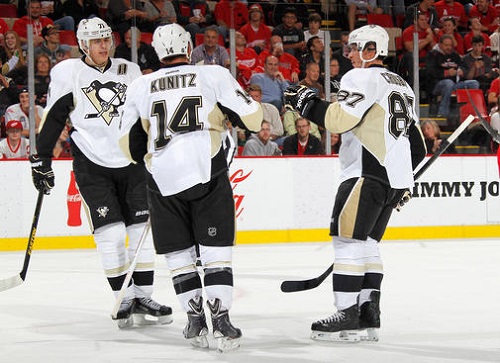 Can you smell it, Pittsburgh? No, not the carcinogen-laden Pittsburgh smoke stacks — HOCKEY! That's right, the Pittsburgh Penguins take on the New Jersey Devils Thursday, 7:00 p.m. (EST) to kick off the season. As always, the expectations for the Pens are ridiculously high — especially after last season's debacle in the Eastern Conference Finals (scoring only TWO goals in FOUR games losing to the Boston Bruins). But what's to expect for the 2013-14 Penguins? Here are my predictions, storylines, and omens (sure to be wrong) for the season:
Sidney Crosby will be really good
Ok. That's out of the way.
Goaltending WON'T be an issue
With the news that backup goaltender Tomas Vokoun will miss three-to-six months with a blood-clot, the Pens turn to minor leaguer Jeff Zatkoff to bullpen the net. Who? With goaltenders like Ilya Bryzgalov, Jose Theodore, and Scott Clemmensen on the market, Penguins General Manager Ray Shero is trusting a lowly Minor Leaguer? That's right. And it won't be a problem. Starter, Marc-Andre Fleury, saw a sports psychologist (it exists) this offseason after the wake of his colander impersonation during the first-round of last year's Stanley Cup Playoffs. Hey, it worked for Metta World Peace, so why can't it work for Marc-Andre Fleury? While I don't expect a pacifistic name-change in Fleury's future, I do believe all of his issues the past couple playoffs are solely in his head. Unquestionably, Fleury has the talent to be a top-tier NHL goaltender and if this psychologist can get to him, the Pens will be awfully tough to defeat. The road to the Stanley Cup will be Fleury's burden — I believe he's ready for redemption.
Rob Scuderi will win Kris Letang the Norris Trophy
In the offseason, Shero brought back a Penguin playoff-legend Rob Scuderi, a.k.a. "The Piece." Scuderi is known, famously, for spelling Marc-Andre Fleury for around eight seconds during the 2009 Stanley Cup Finals against Johan Franzen and the Detroit Red Wings. But it won't be Scuderi's vicarious goaltender-antics that will help Kris Letang, it will be his defense and stability. During his previous stint with Pittsburgh (2003-09), Scuderi was a plus-13 defenseman and throughout his career he has played 95% of his potential NHL games. Scuderi will surely improve a defensive core that was 12th in the NHL last season. But Kris Letang is a bad-boy. In only 35-games last season, Letang tallied 38-points. If you do the math that's more than a point-per-game. Scuderi being back will allow Letang to focus more on his strengths (moving the puck, powerplay, etc.), and unleash his skill across the league. While I do think injuries will keep Letang from the now-legendary defenseman 80-point-season, I also believe that he will be just healthy enough to wow voters and win his first Norris Trophy.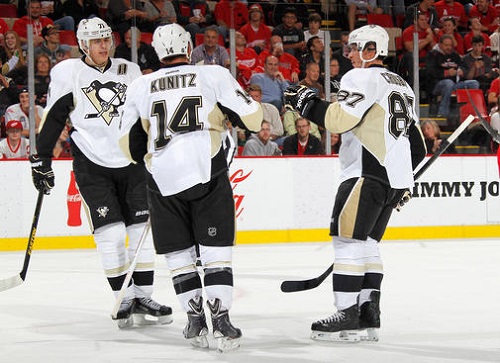 The Penguins will win the Eastern Conference, but not the Stanley Cup
Yes, I said it, and it breaks my heart. The Penguins will defeat the Philadelphia Flyers (or maybe this link) in the Eastern Conference Finals (avoiding Boston along the way) but lose to the St. Louis Blues in the Stanley Cup Finals. I don't think the Pens have the muscle to compete with St. Louis (or Boston for that matter) and will, despite being the more skilled team, be suffocated by the Blues and lose in six.
Record: 51-23-8
Accolades: Norris Trophy – Kris Letang; Hart Trophy – Sidney Crosby
There you have it, folks. Falling a bit short, the Penguins will still dominate the East and represent their city in the Stanley Cup Finals
BONUS: Bold Predictions
Beau Bennett will score 30+ goals
Marc-Andre Fleury will warrant Conn Smythe consideration in a losing effort
Sidney Crosby and Evgeni Malkin both accrue 110+ points
The Penguins will have a better road-record, than home
Love Reading About Hockey?

Subscribe to keep up-to-date with the latest and most interesting hockey news!
| | |
| --- | --- |
| | We hate spam just as much as you |