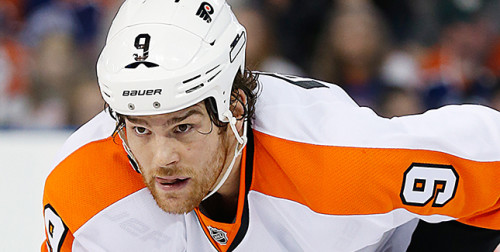 He takes a lot of penalties, can get under your skin, and knows how to make a scene, but his reckless playing style will not keep him away from the rink.
The Pittsburgh Penguins continued to beef up their roster Wednesday by signing UFA Steve Downie to a one-year, $1 million contract. The 27-year-old winger has been suspended for attacking a teammate during practice in the OHL, intentionally slashing a linesman during an AHL game, and hitting from behind in an NHL preseason match.
But despite his violent history, Penguins newly hired assistant coach Rick Tocchet saw Downie's best, and believes he can have a positive impact on the team. "He played excellent for me," Tocchet said. "That's the memory I have of him." Tocchet helped Downie reach a career-high 22 goals during the 2009-10 campaign as interim head coach of the Tampa Bay Lightning.
Downie has two 40-point seasons in his career, and the Pens do not view him as a bottom six forward.
"I know what he did with St. Louis and Stamkos," said Pens general manager Jim Rutherford. "There are very few guys who are this physical, who play this much on the edge and who can play in a top-six role. He's one of those guys."
But that begs the question – will he play with Sidney Crosby? Rutherford and Tocchet believe Downie has the skill to play alongside Crosby and left winger Chris Kunitz, and argue that his presence will provide Crosby with protection.
"It's not out of the question for him to be able to play with Sidney Crosby from time to time," Tocchet said. Ironically, however, Downie was charged $1,000 in March 2010 when he purposely tried to injure Crosby with a body check, and now he's being paid to protect him.
But let it be said that he only did it to stand up for Stamkos, after former Pens blue liner Brooks Orpik leveled him into the boards.
In recent days the Penguins have added Patric Hornqvist, Nick Spaling, Christian Ehrhoff, and Blake Comeau, and have re-signed forward Marcel Goc. Now with the acquisition of Downie, the message is clear that the Pens are looking to become a much grittier team.
Last season the Penguins lacked forward depth and toughness, but Downie addresses both of these issues at a very reasonable price. He has shown that he can compliment skilled forwards, and all the while plays a very physical game to wear down the opposition. If Tocchet can reestablish the chemistry they shared in Tampa, then Downie may be set for one of the best seasons of his career. He has 59 goals, 162 points, and 766 penalty minutes in 336 regular-season games.
"I think he'll be great here," Tocchet said. "He's a good person, a good hockey player. And the best thing is that he wanted to be a Pittsburgh Penguin."