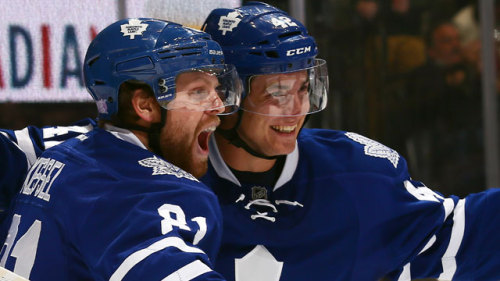 With puck drop a mere two days away, the Toronto Maple Leafs roster is just about ready to go. Some players made things interesting in the preseason, but, for the most part, there shouldn't be many surprises when the final roster is submitted ahead of Monday's deadline.
"It's been a good camp," said Leafs general manager Dave Nonis. "We had certain expectations. Some have been met, [but] not all of them."
Despite speculation that James van Riemsdyk may play alongside Nazem Kadri on line two, it seems Leafs head coach Randy Carlyle has no intention of splitting up one of the most dynamic lines in the NHL. Bozak will centre JVR and Phil Kessel, and assuming they stay healthy (Bozak is a question mark for opening night with a lower body injury), this should be another dynamite season for the Leafs top line.
But while the top unit is just about set in stone, the Leafs second line is an entirely different story.
Coming into camp, David Clarkson had put on an additional 15 pounds of muscle, and was looking to make an impact early. However, since fracturing his orbital bone in an exhibition fight against the Buffalo Sabres, winger Brandon Kozun has put on an incredible show.
"Brandon Kozun has been a guy who, from the first scrimmage… looked like [he] wasn't going to go away quietly," Nonis told the Toronto Sun. Following the Leafs final preseason game on Saturday, Kozun was seen practicing alongside Joffrey Lupul and Nazem Kadri on line two.
And for a kid who came into camp wearing a Marlies cap, this is easily the opportunity of a lifetime.
"I must be doing something right to still be here," Kozun said. "If you come into camp with the thought that you have no chance, you're not going to make it."
Kozun brings an element of speed, which alongside Kadri's creative instincts, can go a long way. But while Kadri and Kozun are small and fast, Lupul is large enough to be an effective force down low in the slot. If Lupul can stay healthy while Kadri remains consistent, and Kozun can handle the tempo of the NHL, than this line should prove successful on a night-to-night basis.
Moving along to the bottom six, the Leafs have a versatility they have not had in years. Daniel Winnik, Peter Holland, Matt Frattin, Petri Kontiola, and Josh Leivo are some of the names buzzing around – but on a 23-man roster, most of these players will be sent down.
It's no secret that Frattin has played poorly this preseason, or that David Booth is out for four weeks with a fractured foot; and with Kozun set on line two, it's a given that Clarkson should fit along the right side one rung below. In addition, Winnik Leo Komarov, and Mike Santorelli should dress for opening night given their veteran status, leaving Kontiola, Leivo, and Holland as the most likely candidates to secure the final forward position.
But with that said, the Leafs have always been known to play a physical game, and enforcers Frazer McLaren and Colton Orr are still active in the Leafs system. Though it's unlikely either will be dressed Wed. against the Montreal Canadiens, they will still be relied upon numerous times throughout the regular season.
And while all of this takes shape, the biggest question in Leafs camp is that of first round selection William Nylander. He has demonstrated that he can play in a men's league from his time in Sweden, and has shown some superb talent at Leafs camp, but leafs management is in no rush to outwork their young centre.
Carlyle says he wasn't ready for the NHL as a teenager, either.
"I just think the level of player is a higher level of player," said Carlyle. "They're better players. They're better athletes. They're stronger … They separate themselves in two areas – with hockey sense and with skating ability."
The Leafs have a lot of decisions to make, with limited time to make them. Toronto has more depth now than in recent years, and whoever makes the final cut had better play hard to keep their spot.
The wait is over, Toronto – the boys are back.
Love Reading About Hockey?

Subscribe to keep up-to-date with the latest and most interesting hockey news!
| | |
| --- | --- |
| | We hate spam just as much as you |