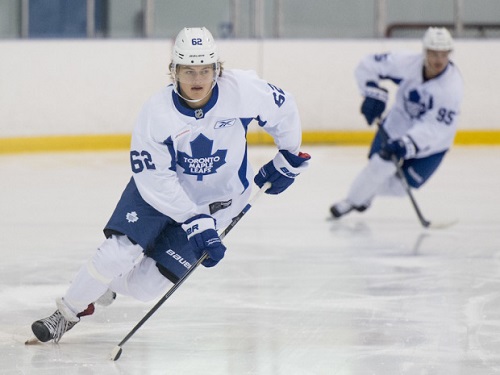 The Toronto Maple Leafs are one of the youngest teams in the NHL, and their system is currently bolstered with untapped potential. For the first time in years the Leafs are beginning to build from within, and Leafs president Brendan Shanahan has said that many prospects will have the opportunity to crack the opening night roster.
"He made it crystal clear to the people in the room that some of these kids are going to be vital and impact pieces to our team moving forward," said Maple Leafs director of player development Jim Hughes. "We want to develop from within. We want to build our own players and build our own foundation."
According to NHL.com, William Nylander, Stuart Percy, Frederick Gauthier, Connor Brown, and Matt Finn are the top five prospects entering Leafs' camp. Each is expected to have a promising NHL career, but so far Nylander has proven to be the most NHL ready.
"He's a dynamic player with a high-end skill set," Hughes said. "His edges, his explosion, his acceleration, along with his hand speed. He's a really talented kid." Nylander, the 8th overall selection in this year's draft, signed an entry-level contract with the Maple Leafs on August 18, though his placement for next season remains uncertain.
"He's got high, high-end skill," said Leafs general manager Dave Nonis. "He's got NHL speed, NHL hands, and an NHL shot right now. It's whether or not the rest of his game can catch up." Moving forward, the five-foot-nine, 169-pound centre will need to bulk up his frame if he plans on maximizing his game at the NHL level.
But the first round potential at centre does not end with Nylander, as faceoff specialist Frederik Gauthier (selected 21st overall in 2013) has continued to improve his game. The 19-year-old had a brief stint with Canada at the 2014 IIHF World Junior Championship, and recorded 52 points in 54 games in the QMJHL this past season. Unlike Nylander, Gauthier carries a huge frame, clocking in at six-foot-five, 214-pounds.
"He angles well, he blocks shots, he wins faceoffs, he's a good penalty killer, he goes to the front of the offensive net, he's detailed, [and] he stops and starts on loose pucks," said Hughes. "He's going to be a really good National Hockey League player." According to NHL.com, Gauthier is expected to be NHL ready come the 2016-17 campaign.
On defense, 20-year-old Matt Finn (drafted 35th overall in 2012) has made great strides in his development. He was second in scoring among Ontario Hockey League defenseman this past season (14G, 47A in 66 games played) and had the best plus/minus rating in the league at plus-57. The six-foot, 199-pound defenseman captained the Guelph Storm – one of the strongest teams in the Canadian Hockey League – and helped carry his club to the Memorial Cup.
"He's a high character kid with great leadership skills," said Hughes. "He's a kid that has such desire and determination… In a lot of ways he's probably an overachiever." Next year expect to see Finn lace up for the AHL Toronto Marlies, and potentially crack the Leafs blueline two seasons from now.
Another player on a similar development timeline is 21-year-old defenseman Stuart Percy. Having registered 25 points in his first AHL season, Percy is showing signs that he is NHL ready. "What makes Stuart special is [his] ability to distribute the puck and make the four players around him better," said Hughes. "He continues to get better, continuous to get stronger, and is becoming a dominant player at the AHL level, which is a great sign." Percy is expected to rejoin the Marlies this season, and is projected to lace up for the Leafs come the 2015-16 campaign.
But while the Leafs may be in desperate need of top end talent defensively and up the middle, beyond Phil Kessel they are also very weak on the right wing side. With David Clarkson, Matt Frattin, and Colton Orr in the system, positions are bound to open up down the road. Thus having 20-year-old Connor Brown penciled into the depth charts – especially given his brilliant play this past season – is huge. The five-foot-eleven, 160-pound forward led the OHL in scoring this year with 128 points in 68 games played, and won the league MVP award.
Many will credit Brown's success to playing alongside top 2015 prospect Connor McDavid, though it should also be noted that Brown was a regular 20-goal scorer before McDavid arrived. "Connor is a motivated kid," Hughes said. "He's not waiting around for somebody else to make him better. He was on a very good team and he had a very good year, but his work load and his work ethic is superior. He loves the game." Like Finn and Percy, expect Brown to join the Toronto Marlies this season to develop his game further. According to NHL.com, Brown should be ready to join the Leafs lineup come the 2016-17 season.
Do not expect the Leafs to make the playoffs this year, or Kessel to win the Art Ross Trophy while Jonathan Bernier claims the Vezina, but do not lose hope. By no means are the Leafs a shutdown squad, but they are definitely a team that is preparing for the future. The team on the ice today is important, but the real excitement lies amongst the talent developing within the Leafs organization. So get excited, Toronto, because for the first time in years, people would not be wrong in saying that the future looks bright for this club.