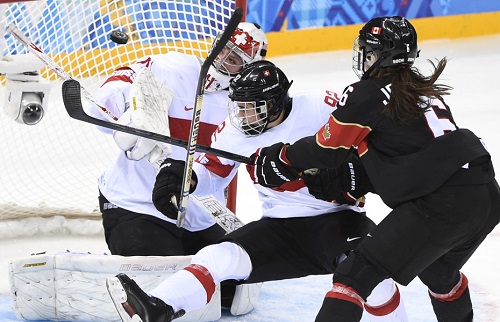 The 2014 Sochi Olympics got underway on Saturday, and for the Swiss Olympic women's hockey team, this was no easy start.
Led by captain Julia Marty, the Swiss began the tournament against team Canada, who won gold in Torino in 2006, and dominated once more in Vancouver in 2010. Canada came out of the gates flying looking to defend this title, and the Swiss had trouble containing their explosive offensive pressure.
Canadian defenseman Jocelyne Larocque scored 1:25 into the game, followed by Tara Watchorn netting Canada's second tally five minutes later. Offensively the Swiss were kept to the outside, and combining this with defensive collapses in their own zone, Switzerland was no match for team Canada.
But it was Swiss goaltender Florence Schelling who kept the Canadians at bay. Schelling did incredibly well to hold Canada to a 5-0 victory considering that in total the Swiss gave up 69 shots, while managing to rack up a mere 14 shots of their own.
"She's one of the toughest goalies I've played against, I have a lot of respect for her" said Canadian forward Marie Philip-Poulan during a post-game interview. Poulan scored Canada's fourth goal on a three-on-one midway through the second period.
The reason the Swiss gave up so many shots was due to their limited defensive zone coverage. As the Canadians entered the offensive zone, the Swiss defense would back themselves up, allowing Canada to have ample room to cycle the puck down low. This forced Schelling to make numerous back-to-back highlight-reel saves.
In addition to poor play in their own end, the Swiss failed to connect on the power play, giving up a shorthanded breakaway goal to assistant captain Haley Wickenheiser. However thanks to Schelling's dominant performance, this was the only breakaway chance that managed to find the back of the net.
It wasn't all down hill for Switzerland, however, when they managed to get some offense going late in the third period.
Switzerland's forward line consisting of Phoebe Stanz, Alina Muller, and Anja Stiefel was an offensive threat throughout the game, creating a two on one rush with the clock ticking down. The Swiss also ramped up their physicality, laying hits left right and centre.
Olympic rules indicate that body checking is not allowed in women's hockey, though the referees seemed to let things go as the game was coming to a close. Swiss forward Laura Benz collided with Canada's Jennifer Wakefield as a result, and needed to be helped off the ice with 5:50 left to play in the third period.
Things don't seem to be getting any easier for Switzerland as they prepare to take on the United States on Feb 10 at 5 a.m. EDT. The States are coming off of a 3-1 win over Finland, and the Swiss will be looking to Schelling once again for another shining performance.
Schelling had a .927 save percentage, and was the third star of the game.