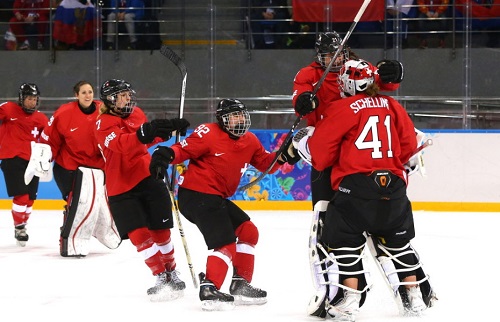 Strong goaltending, a perfect penalty kill, and consistent offensive pressure helped lead Team Switzerland to a 2-0 win over the Russians on Saturday morning in Sochi.
Entering the game, Swiss goaltender Florence Schelling had faced 156 shots in the tournament, and her dominant play continued once again. From the opening faceoff to the final minutes of play, Team Russia tried to beat Schelling on the glove side at all ends of the ice.
But to beat Schelling, shots on net are only half the battle.
The Russians were unable to generate traffic in front of the net or open up the five hole, which is the weakest part of Schelling's game. With bodies in front, the Russians may have been able to tip the puck through the five hole off of a point shot, and change the outcome of the game.
But to no avail. As a result the Russians went zero for four on the powerplay, and paid the price.
At 6:56 in the opening frame, Stephanie Marty scored her second goal of the tournament when she wired the puck from the high slot. Swiss forward Phoebe Stanz did what the Russians could not, and provided the screen in front of the net. Alina Muller and Sandra Thalmann picked up the assists.
Unlike previous games, the Swiss were able to provide consistent offensive pressure, and shut things down in the game's final moments. From start to finish Phoebe Stanz added offensive flare, and defenseman Nicole Bullo made numerous plays in her own end that helped to secure Switzerland's first win of the tournament. Bullo was the third star of the game.
Midway through the match the Russians started crashing the net, and this physical play continued late into the game. Despite being knocked down more than once Schelling always seemed to know where the puck was and shut the door.
Prior to Saturday's loss the Group B leading Russians were undefeated, and had yet to allow more than one goal per game. This all changed when Switzerland's Lara Stalder scored on the empty net with 20 seconds remaining in the 3rd period.
With this shutout victory the Swiss prepare to face an undefeated Team Canada in the Semifinals on Monday. Again the Swiss cannot be afraid to shoot the puck, and Schelling will need to be dominant if they even want to consider defeating the Canadian women.
Nonetheless these women can play, and Team Canada will need to be ready.
Schelling recorded 41 saves in the win, and was the first star of the game.