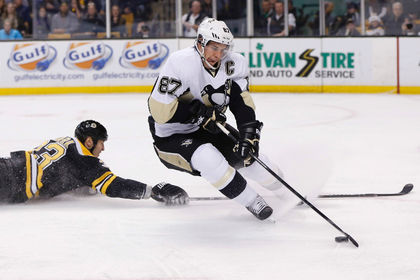 Debate all you want, but there is no denying that Sidney Crosby is the best active player in the NHL. At 27-years-old, Crosby has two Hart and Art Ross trophies, one Stanley Cup, two Olympic gold medals, and three Ted Lindsay awards.
But that's just the beginning, and the Penguins captain is not showing any signs of letting up. In 550 NHL games, Crosby has 769 points and a plus-124 rating. Since being drafted first overall in 2005, he has recorded five 100-point seasons, and has helped the Pens reach the postseason in eight of his nine campaigns.
But it hasn't all been easy for the star centre, having battled back on numerous occasions to regain superstar form. On January 1, 2011 Crosby was the victim of a blind-side shoulder hit to the head from then Washington Capitals centre, David Steckel. It was at this moment that his concussion problems began, and his future seemed uncertain.
Detroit Red Wings head coach Mike Babcock has worked with Crosby on both Olympic teams, and says his competitive nature is what makes him so successful. "He's a great competitor," Babcock said. "He's a committed, committed guy to getting better. He's a leader in that way and that's why he's been so successful."
But beyond his gritty nature, Crosby sees the ice exceptionally well, anticipates the play, and can whip past defenders with incredible speed. He commands a brilliant backhand comparable to Patrick Kane, and was third in faceoff wins this season with 991. After completing 80 games this year for the first time since injury, Crosby led the NHL with 104 points, and still expects to improve his game further.
"There's still a level I can get to," Crosby said. "Before I got hurt was probably the best I felt and I'd like to get back to that point. I don't feel like I got to that point this year. I feel like I was consistent and that was a product of our team and the guys around me, but I still feel like I can improve and learn a lot more. That's exciting."
But for a player as complete as Crosby, it's difficult to gauge which area of his game actually "needs work."
Many will criticize Crosby for his inability to produce in the postseason – and granted one goal in his last 17 playoff games is not anything to gloat about – but people need to look at the big picture. Alex Ovechkin will net more game winners, but he's a one-dimensional goal scorer. Jonathan Toews is a highly skilled two-way forward, but the Chicago Blackhawks have a stronger top six.
Consider the Blackhawks starting lineup. While Toews benefits from ice time alongside Marian Hossa, Patrick Sharp, Brent Seabrook, and Norris trophy winner Duncan Keith; Chris Kunitz, Pascal Dupuis, Brooks Orpik, and rookie Olli Maatta reinforce Crosby. Unlike Toews, Crosby needs to be the driving force behind the Pens top unit night in and night out. Not to mention, the Toews line began 63.6% of their shifts in the offensive zone last season, while Crosby's unit started offensively 50.4% of the time, according to Sportsnet.
With these comparisons, it's a wonder Crosby is able to generate more offense than his elite opposition. Next season Crosby will continue to play alongside Kunitz and Dupuis, though he should find some ice time with newly acquired defenseman Christian Ehrhoff. On top of this, the Pens have filled out their bottom six with versatile skaters Nick Spaling and Steve Downie, which should take some added pressure off their franchise player.
Whether he is playing with the leagues' best on the Olympic stage, or carrying his lesser line mates to the postseason, Crosby remains dominant. With sports it's all about numbers – and the statistics point to the same conclusion: Sidney Crosby is the best hockey player in the world.
Don't kid yourself.