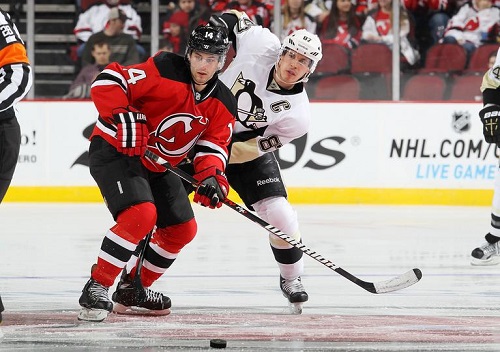 With the Devils gaining new owners in Philadelphia-based Josh Harris and David Blitzer last week – new owners with a plan to keep the Devils in New Jersey and the money to flip the team into a profitable one – their first order of roster business must be to sign restricted free agent Adam Henrique.
Henrique had a seemingly quiet season last year after missing the first five games with a thumb injury sustained while playing with the Albany Devils (AHL), but he finished tied for third in most goals on the team with Ilya Kovalchuk. The Devils didn't exactly have what one would call a prolific offense, though, considering that tied for third most goals equals a tally of 11.
Henrique's sophomore season – you can't call it a slump based on numbers – is behind him and, at full strength he has the ability to provide New Jersey with some pop up front.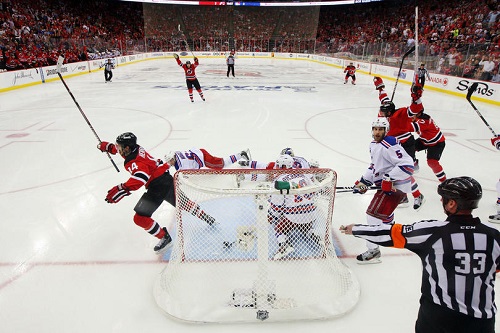 Looking at last year in comparison to his first full season with the Devils, there was, let's call it a dip in productivity. In 2011-12, Henrique recorded the fourth-most points on the team with 51 (16 goals and 35 assists); ahead of him were Kovalchuk with 83 (37 G, 46 A), Patrik Elias with 78 (26 G, 52 A), and The Player Who Shall Remain Unnamed with 69 (31 G, 38 A), while just behind him was David Clarkson with 46 (30 G, 16 A). Especially in light of the fact that three of those players are now playing elsewhere – Kovalchuk in the KHL, The Player Who Shall Remain Unnamed with the Minnesota Wild, and David Clarkson with the Toronto Maple Leafs – Henrique faces the opportunity to return to the success of his rookie season in being an impact player alongside Devils veterans Elias, Travis Zajac, and Dainius Zubrus.
But, General Manager Lou Lamoriello has to sign him, first; although that hasn't happened yet with training camp starting in about three weeks, it still isn't quite time to worry just yet. Lamoriello has always been one of the craftier GMs in the league (although I do admit he may be overly loyal in his signing of former Devils several years past their prime), and he's proven that his savvy pays off more often than not.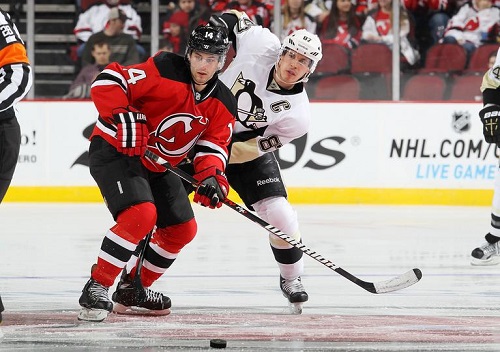 Earlier this summer in the 2013 NHL Draft, Lamoriello pulled off what looks to be a major steal in trading New Jersey's ninth overall pick to the Vancouver Canucks in exchange for goaltender Cory Schneider. Later in that same week, he re-signed Elias and Zubrus in addition to adding three free agents in Ryane Clowe, Michael Ryder, and Rostislav Olesz.
While these roster moves fall in both the what-have-you-done-for-me-lately and the I'll-believe-it-worked-when-I-see-it categories, it's no secret that Lamoriello has made some stellar deals for the Devils during his 26-year tenure with the franchise.
"Lou is a tremendous asset to this organization, and the Stanley Cup banners that hang here attest that he will continue to play a key role to the success in this organization moving forward," Harris said. "Tampering with success isn't a good recipe; Lou is in charge of hockey operations. I'll ask questions, probe and debate, but Lou is in charge of hockey."
Having a strong public backing of Lamoriello by the Devils new owners within their first week on the job bodes well for the Devils, and it sounds as if they're planning to let Lamoriello continue do his thing.
That better include locking up Henrique, though, if the Devils plan to pull themselves up from last year's disappointing playoff-less finish.