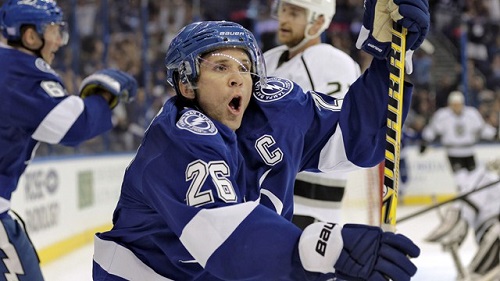 Earlier this morning, Team Canada announced via Twitter that Martin St. Louis will replace Steven Stamkos in Sochi. The selection was no easy task for Team Canada, navigating through a deep talent pool, which included James Neal and Claude Giroux.
The 38-year-old forward made a convincing case for himself, despite the team's decision to enlist the services of other players. St. Louis lamented on the situation following Team Canada's roster announcement in Toronto, disappointment was apparent.
In the truncated 2012-13 season, St. Louis netted 17 goals and 43 assists in 48 games played—earning him the title of NHL points leader. These numbers speak to the type of player St. Louis is—a dependable, speedy, confident forward that battles for every inch of ice and point earned. His vision is impeccable and desire to win is evident with each shift. This character will bode well in the Team Canada locker room, under captain Sidney Crosby.
The 2013-14 campaign is another impressive showing of skill and determination with 25 goals and 29 assists (54 points) in 56 games played. In his last 10 games, St. Louis posted eleven points—with four goals scored against the San Jose Sharks.
St. Louis fits perfectly on the roster because he mirrors the overall character of Team Canada. As his point totals prove, St. Louis is consistent and leads by example. He is a left-handed shooter and can serve as center or right winger. Special teams will be difference at the tournament and St. Louis is a great fit in these situations as well.
Team Canada is entering the Olympic Games as defending gold medalists, meaning the pressure is at its highest. In order to achieve the ultimate prize again, Team Canada needs to play under a simple yet effective model—imagine a 1-2 punch. The defensive core is the first punch to opponents, the second is the unmatched offense. The key is strong and unyielding pressure. This comes from consistency, excellent puck management, and communication between linemates and defense pairings.