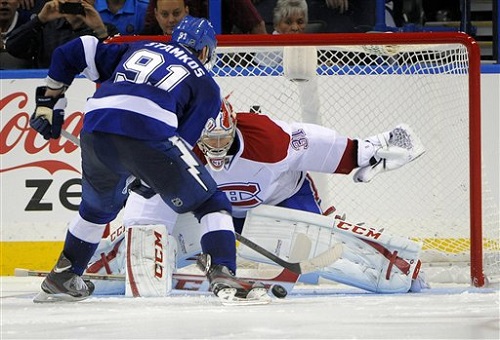 Steven Stamkos usually doesn't have a hard time putting the puck in the net. He has more goals during the last four seasons than any other NHL player.
Since 2009, Stamkos has scored 185 goals. Alexander Ovechkin is second with 152.
For whatever reason, though, Stamkos has just an 18.5% (5/27) shooting percentage during shootouts in his career.
"It's something that, a lot of the time, is a mental thing," Stamkos told TSN. "When things don't go your way, you have negative thoughts heading into your next shot so it's definitely something I'm aware of and would love to obviously get better at."
I won't get into how dumb shootouts are when used as a way to determine the winner of a hockey game, but the skill is one that a great player like Stamkos is expected to have. Jonathan Toews of Chicago and Sidney Crosby of Pittsburgh are among the top shootout performers in the league.
"Everyone wants to be a hero," Stamkos said. "There's obviously a lot of pressure, but you have to kind of run with it and hopefully you don't have to be put in that situation, because you've won the game before that, but it's definitely something everyone would want to do."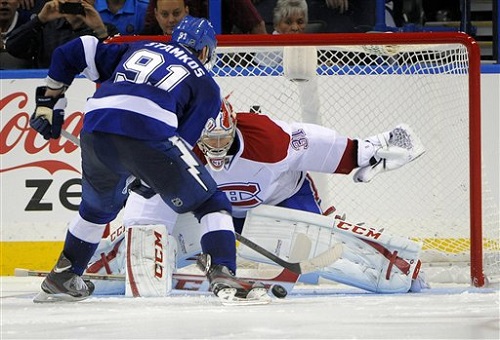 The one thing I worry about with Stamkos is that he may be over-thinking his shootout struggles. Listen to this quote from TSN:
"You skate toward the net in a game and there's a guy chasing you and you don't think about it and you score and you say, 'Why can't I do that in a shootout?' Well, in a shootout everyone's eyes are on you," he said. "The game's on the line. You have more time to think. Almost too much time to think so for me it's more of a mental thing and hopefully being a little more successful early on in the season will allow me to get some confidence."
"It's just something you have to overcome so it obviously doesn't happen overnight."
It's good to know Stamkos is working on his shootout deficiencies, but hopefully he stays focused on the important parts of the game as well.
Frankly, I'm not worried because at just 23 years old, Stamkos is arguably the best scorer in the league and still maturing. The shootout numbers should even out over time once he stops thinking too much about his struggles.