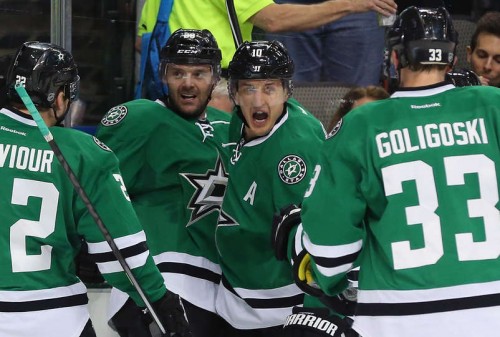 The last few weeks have been a rollercoaster for the Dallas Stars as they race to make the playoffs, with big wins, losses, multiple injuries, and of course the terrifying incident with Rich Peverley. It was no different when the Stars took on fellow Central Division foes, the Nashville Predators.
The Stars managed to pull through against the Predators with a whopping 7-3 win and thirteen Stars tallying points. On top of that, all seven goals were scored by different players, something that hasn't been done for the Dallas Stars in five years. Goals were scored by Ryan Garbutt, Vernon Fiddler, Colton Sceviour, Alex Chiasson, Trevor Daley, Valeri Nichushkin, and Cody Eakin. Also noteworthy was the three assists recorded by Alex Goligoski. Despite this big win, the Dallas Stars are not done yet. They are still three points behind their rival Phoenix Coyotes for the wild card spot they gave up while in a small slump.
While three points may not seem like a very hard gap to fill, the season is winding down and time is working against them. The Stars are chomping at the heels of the Coyotes (It was the other way around just over a week ago), and Phoenix isn't quite ready to stop fighting for their spot just yet. If that weren't enough of a challenge, the Vancouver Canucks are just two points behind the Stars and looking to sneak up at any chance they get.
"You can't afford to take a night off and lose points anywhere. You've got to keep pace with everybody," said Vernon Fiddler when asked about tonight's game and the playoff push. "It seems like this time of year everybody finds ways to win. We just have to worry about our destiny and keep pushing, get as many points as we can and put some pressure on other teams."
The Stars will certainly be continuing their push to the playoffs and do their best to continue winning as they wind down the season with nine games left. They will be taking on the St. Louis Blues next, who are currently leading the league and will certainly be a big threat in the playoffs this year.
"We got the game we wanted [tonight] and now we have to go out and get the game tomorrow," said head coach Lindy Ruff. "We played a good game in St. Louis last time. We need to score and St. Louis doesn't give up a lot but if you can get two or three you can get yourself in a ballgame with them, although they've really been on a run here lately."