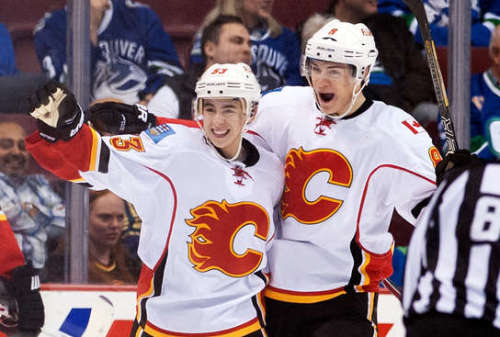 The Flames are at it again in 2014: getting out to a strong start for the second straight season and looking good in the process.
Their 5-4-1 record may not look so impressive on the surface, but there is more to it. They have wins against the Nashville Predators and Chicago Blackhawks – first and second respectively in the Central Division as of Oct. 28 – and an overtime loss to the powerful Tampa Bay Lightning.
While their start to 2014-15 has been reminiscent of last season's, in terms of wins and losses, one major change is where the team is finding its offense. Last season it was Jiri Hudler leading the way with 54 points, followed by Mark Giordano who had 47 and the now-departed Mike Cammalleri finished third with 45 points.
Cammalleri's departure meant a very large hole in the team's offense was going to have to be filled by one player, if not more. Through 10 games, though, there doesn't seem to be too much of an issue replacing him.
Hudler is, as expected, one of the team's top point scorers, but his seven points aren't enough to lead the team. That title belongs to Joe Colborne whose hot start has come as a surprise, though perhaps not as surprising as the fact his eight points are all assists.
Also predictably near the top is Giordano, but Calgary's overall defensive production was almost certainly not predicted. Maybe the biggest bright spot so far has been the play of TJ Brodie who has seven points and had a five-game point streak – both of which are on pace with Giordano.
Aside from Brodie, Dennis Wideman has put up six points through nine games. Health has been an issue for Wideman in recent years, so staying in the lineup will be key to him having success. Even Kris Russell – more known for blocking shots than taking them – has six points to begin the year.
Not to be outdone, Mason Raymond has done what he was brought to Calgary to do: score. After a rejuvenating season with the Toronto Maple Leafs last year – in which when he put up 45 points – Raymond has carried that momentum into this season. He has already scored five goals and seven points, including a hat-trick.
(Raymond was placed on the IR Tuesday due to a shoulder injury, but it appears to be motivated by David Jones' activation from the IR and not any serious concern).
And just as surprising as who is contributing is who isn't. Mikael Backlund, Sean Monahan, Curtis Glencross and Johnny Gaudreau have each got out to glacial-slow starts. Monahan was battling the flu early on, while Backlund's health was also in question, but that doesn't excuse the fact they each have just four points.
It can't be understated what these players mean to Calgary's offense, so the sooner they regain their scoring touch the better it will be for the team. But as long as players such as Brodie and Colborne can continue their hot starts, while Monahan and co. sort things out, there shouldn't be too many issues.